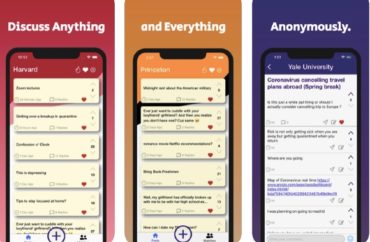 Students afraid to share their views with their names attached – including app founder
Years after Yik Yak roiled colleges by facilitating unfiltered and sometimes offensive discussions within the geography of the campus, another anonymous social media app is trying to crack the most elite segment of the higher ed market.
Yale University students Ryan Schiller and Daria Kozeko founded Librex last fall as part of the Tsai Center for Innovative Thinking's "accelerator" program. They launched it on their own campus and expanded it to Dartmouth College and Princeton last month.
Schiller told The Dartmouth he's working on bringing Librex to Princeton, with plans to expand across the Ivy League.
"The mission of Librex is to democratize college discourse and create a space for honest open discussion about what's going on in your campus community," says its content policy, updated April 5.
Even though Librex is designed to be less of a free-for-all than Yik Yak was, it has still stirred up controversy among students.
Twitter mentions reviewed by The College Fix are overwhelmingly negative: Some users complain that the app lets students say racist or sexist things with no repercussions, while others are disheartened to learn their peers have conservative views.
MORE: Campuses 'symbolically' ban Yik Yak
Finally getting the recognition I deserve ☺️ still fuck librex tho pic.twitter.com/mrqEt14jR8

— Ian the Prozactivist (@whitehabibi9) April 15, 2020
The freedom to share views that may be unpopular was precisely the motivation for founding Librex, Schiller told the Yale Daily News last fall.
"We built an anonymous app because people on campus — particularly international friends — have felt that they couldn't express how they actually felt to their friends or in classes because they were worried about how they would be judged," he said. "We want to invite people back into the community, rather than having them feel alienated."
Part of the motivation for the app was recent surveys showing that students routinely hide their views, Schiller told The College Fix in an email.
Yale incidents are foremost on his mind, though. He cited a "Cyberbullying Campaign" on Twitter led by Yale students who favor a "Universal Pass" policy for this coronavirus-affected semester. It was directed against students who "wrote a petition about why they did not support" such a policy.
"That is why the anonymity on Librex is essential to safe discourse," Schiller said.
Some critics 'have trouble tolerating open discourse' that challenges their views
The ability to use Yik Yak on a data network left colleges few options for regulating discourse on the geolocation-based app, which was created by Furman University alumni in 2013.
Several campuses banned the app from their own Wi-Fi networks. When the University of Mary Washington refused to do that, some students sued the public university for not protecting them from offensive "yaks."
Eastern Michigan University students used the app to blow the whistle on a mandatory environmentalism class they described as propaganda. Administrators subsequently withdrew it from the curriculum.
The now-defunct Yik Yak used voting features to mitigate offensive content, and removed anonymity shortly before its demise. Librex also uses upvoting and downvoting but goes further, with "volunteer student moderators" in addition to "community reporting."
Users are instructed to "be legal" by not posting "spam, threats, or darknet type stuff," avoid targeting "individual students or professors (excluding public figures)," and abstain from making "sweeping statements about core identity groups."
That hasn't stopped students from criticizing the content they find there. "When you look at people on campus, you'll be thinking that they must be educated and gentle," student Guhui Zhang told The Dartmouth. Sexist and racist Librex posts are "something you wouldn't normally see on campus."
It is unclear whether Librex's policy is enforced loosely or aggressively, at least based on criticism by Twitter users: Some find the app too restrictive or not restrictive enough.
MORE: How Yik Yak helped nix mandatory pro-environmentalism class
Schiller is somewhat resigned to the criticism, telling The Fix that Librex can only do so much to avoid a bad reputation while facilitating free speech.
"I think [the negative view] is propagated by people who sometimes want to inhibit free speech or have trouble tolerating open discourse if the discussion disagrees with their views," he said. "This is not healthy and is, in my view, antithetical to free speech."
He noted that "anonymous conversation is nothing new in America. The Federalists and Anti-Federalists anonymously debated the US Constitution."
The issue is personal for Schiller. "When my friends and I would talk about issues happening on campus, we felt like we were at risk of being judged by our peers," he told the independent Dartmouth-focused blog Dartblog last month:
If we spoke up in class, we worried that our reputations would be ruined for expressing how we really feel. I believe that a liberal arts education works best when students feel comfortable saying what they think. I want critical conversation to have a home on college campuses.
Schiller told The Fix he tries to convince his peers of the importance of fostering an atmosphere of open discussion by avoiding "labels like 'progressive' and 'conservative'":
We are all at college learning and figuring out what we believe. Talking to each other is one of the main ways we learn in a liberal education environment.
MORE: Faculty take over Yik Yak to spread good cheer over hateful comments
nothing is funnier than seeing republicans/trump supporters on librex complaining about feeling shamed & ostracized on campus for their political views. lmao good.

— amelia (@mimi_not_meme) April 8, 2020
A crowdsourced first date
When Librex debuted at Yale, the founders emphasized that it collected as little user data as possible.
Their refusal to monetize user data cost them a slot in the Y Combinator program, famous for helping launch Airbnb and Dropbox, Kozeko told the Daily News last fall.
(Kozeko's name is not currently on the Librex website. Schiller told The Fix that another Yale student, Arthur Azvolinsky, is also a founder. He's named alongside Schiller on the website and mentioned in The Dartmouth article from March.)
The app's one big step toward collecting user data is requiring prospective users to register with their school email addresses. Schiller highlighted the "community-based" nature of the app as its main difference from Yik Yak, which let anyone use the app as long as they were within its geographic limits.
Yik Yak's founders also considered themselves community-based. They told a TechCrunch conference in 2015 that the app was "focusing first on community, and secondly on anonymity."
Beyond facilitating the free exchange of ideas, Librex has enabled real-world positive interactions, Schiller told The Fix.
"This girl at Yale met this boy while standing in line at one of the food places on campus. She never got his name, but she posted about him on Librex," he wrote:
The boy reached out, and they agreed to meet up. The Librex community decided to come out to support them, and we had an impromptu Librex get together of about a dozen students.
MORE: Feminists threaten legislation if schools don't unmask Yik Yak users
IMAGE: Apple App Store screenshot
Like The College Fix on Facebook / Follow us on Twitter