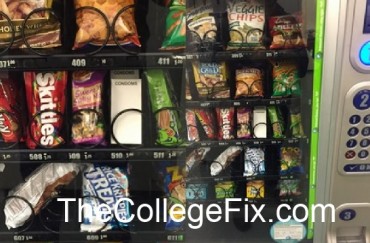 University of Pennsylvania student leaders cite privacy, easy access 
Vending machines in dorms across the University of Pennsylvania recently received a new item to sell: condoms.
The prophylactics, installed earlier in the spring semester, have been nestled among items such as Skittles, potato chips and Sweet n' Salty trail mix. They cost $1 per pack of two, and are offered in plain, white packaging. 
Campus leaders stated selling condoms in dorm vending machines will make it easier for students to have safer sex, and that students' privacy was allegedly in jeopardy by having to obtain them from other sources on campus.
The vending-machine condoms were added despite the fact that students may obtain them for free at no fewer than 15 dispensaries on campus, including the Student Health Services office, the Women's  Center, the Graduate Student Center, the LGBT Center, and at the front desks of all eleven dorms. This past year, the Daily Pennsylvanian student newspaper also handed out free condoms to recruit new members.
Condoms are also sold at two CVS locations and a grocery store adjacent to campus.

In 2013, Student Health Services switched from selling condoms to distributing them free of charge. A free condom poster campaign accompanied the new policy, encouraging students to "Just Ask" for their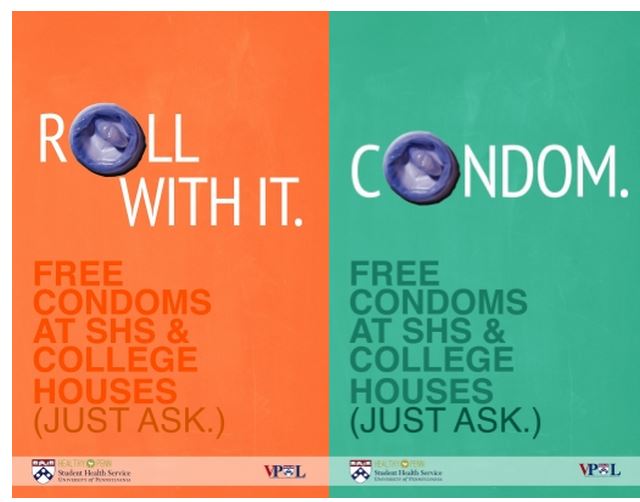 free condoms. Student Health Service's website states that their intention was "to make access to condoms even easier for students."
Apparently that wasn't good enough.
In approving the decision to sell condoms in the vending machines, some student government members said "not all students are comfortable" asking for their free condoms, and Student Health Services "hasn't been that good in distributing condoms," according to the March 22 Undergraduate Assembly meeting minutes.
Adding condoms to vending machines would afford students more privacy and easier access, the students said. The minutes of the March 22 meeting also reveal that students leaders on the Undergraduate Assembly approved the measure without prior knowledge of the brand of condoms or their expiration dates.
Undergraduate Assembly members did not respond to requests by The College Fix seeking comment. John Eckman, director of Residential Services for Business Services, also did not respond to requests seeking comment.
College Fix reporter Ben Parker is a student at the University of Pennsylvania. 
Like The College Fix on Facebook / Follow us on Twitter
IMAGES: The College Fix