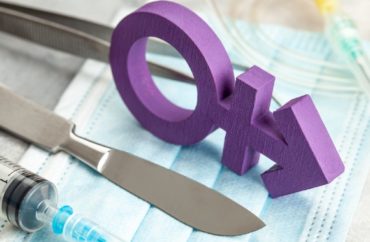 The Missouri university's insurance plan directly contradicts what the Catholic Church teaches
Saint Louis University's 2021-2022 student health insurance plan will help students pay for a number of services that are deemed immoral and sinful by the Catholic Church, including sterilization and so-called "gender reassignment."
The Jesuits, a Catholic religious order, oversees and staffs the university. Its 2020-2021 health plan covers the same procedures, though it is not known if the faculty plans also do.
Aetna provides the student health plan for SLU enrollees. Students can get help undergoing "Surgical, hormone replacement therapy, and counseling treatment" otherwise known as "sex change." However, the Catholic Church teaches that there are only two sexes, male and female, and no one can change which one they are born as.
It's not the only medical procedure the university-endorsed health plan will cover that suppresses a student's natural biology.
Female students can also have 100 percent of the cost of their sterilization covered by the health plan. The Church teaches that voluntary sterilization is impermissible, as is the use of birth control, also covered by the health plan. Hormonal birth control can act as an abortifacient by preventing implantation of a newly-conceived human life.
MORE: Jesuit professor and priest who defended dignity of life, passes away
"By creating the human being man and woman, God gives personal dignity equally to the one and the other," the Catechism of the Catholic Church says. "Each of them, man and woman, should acknowledge and accept his sexual identity"
"While contraception is in itself contrary to the moral law, another moral issue here is the purposeful act of direct sterilization, an intrinsically evil act," Catholic priest William Saunders said. "Direct sterilization means that the purpose of the procedure is to destroy the normal functioning of a healthy organ so as to prevent the future conception of children," he wrote in an article for Catholic Culture.
While students can get assistance suppressing their ability to have children, they'd be disappointed if they wanted help getting pregnant. That's because the plan does not cover ovulation predictor kits, which help women determine when they are most likely to conceive a child.
SLU spokesperson Carrie Bebermeyer did not respond to emailed requests for comment on the plan's coverage of these services. The Fix reached out twice in the past two weeks.
'Catholic identity should be called into question'
One Missouri Catholic who works in the pro-life movement said she is disappointed in the university for not upholding the teachings of her faith.
"It is unfortunate that an institution that not only is supposed to grow their students in the Catholic faith, while using Catholic theology as a core curriculum, covers life ending drugs in their student health plan, especially as they advertise themselves as one of the most prestigious Catholic schools," Reagan Barklage told The College Fix via email. Barklage is the national field director for Students for Life of America and is a Catholic in the Archdiocese of St. Louis.
She took aim at the university's coverage of abortifacient drugs but exclusion of fertility awareness services, such as ovulation predictor kits.
"Women deserve better than drugs that suppress healthy bodily functions, which includes the endocrine and neurologic systems," Barklage said. "Why doesn't St. Louis University cover ovulation predictor kits, a way to both avoid and achieve pregnancy, that is both aligned with the Church teaching and healthier for the woman?"
"The Catholic Church has always been a loyal voice for those targeted by abortion violence," she said. "When a university that claims to be Catholic betrays these victims by not only failing to speak for them but also actively participating in their demise, the claim of Catholic identity should be called into question and held to account."
SLU is not the only Catholic university covering services that have been decried by the Catholic Church.
The University of San Francisco's student health insurance plan covers abortifacient birth control, abortion, sterilization, and sex-change surgeries and hormones.
The University of San Diego, another Catholic university, also pays for abortion, birth control, sex-change surgeries and sterilization.
MORE: Pitt researchers targeted black babies for abortion, organ harvesting
IMAGE: ADragan.Shutterstock.com
Like The College Fix on Facebook / Follow us on Twitter