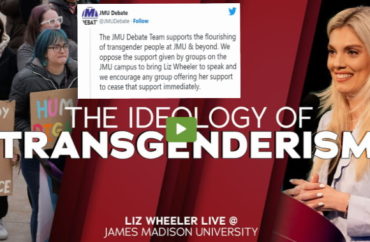 James Madison University's Debate Team recently released a statement explaining it will not debate topics its members feel are "exclusionary, discriminatory or hostile."
Additionally, the team said its members will not debate the topic of transgender ideology because those who identify as such should be "free from discriminatory attacks on their identity, motives, and character."
The statement was released in response to Young America's Foundation hosting of conservative pundit Liz Wheeler's talk "The Ideology of Transgenderism" at James Madison University.
The talk drew a large protest Wednesday evening outside the venue, but Wheeler was able to give her entire speech.
The JMU Debate Team supports the flourishing of transgender people at JMU & beyond. We oppose the support given by groups on the JMU campus to bring Liz Wheeler to speak and we encourage any group offering her support to cease that support immediately.

See our full statement. pic.twitter.com/XyJM5JGWIb

— JMU Debate (@JMUDebate) April 19, 2023
Wheeler responded to the JMU debate team's stance with a statement of her own.
"They think that they are the arbiters of truth and therefore 'truth' cannot be debated," she said in response.
The @JMU debate team doesn't want me to speak on their campus tonight, so I'm going to talk directly to them and the transgender activists. Attend in person or watch online: https://t.co/XcWGyTxXRa pic.twitter.com/xESaqj6m0X

— Liz Wheeler (@Liz_Wheeler) April 26, 2023
The debate team's statement also produced a lively debate on Twitter, with several commentators criticizing the stance, with comments such as:
"So the JMU debate team is afraid of debate?"

"Agree with her or not, her positions are objectively mainstream and worthy of discussion regardless of how you subjectively describe them."

"This is a blatant contradiction. You say: 1) "No person" should be denied free speech 2) "Debate exists" to challenge bad ideas. But you want to censor @Liz_Wheeler because you've judged her views as being bad bad. This is subjective reasoning. It's illogical."
Leading up to her talk, Wheeler and YAF received backlash on social media, with vulgar and explicit comments denouncing the event and one commenter even telling her to commit suicide.
Wheeler was told "kill yourself" in one response to her tweet on her upcoming talk. On Instagram, replies included "f*ck this sh*t," "this is disgusting," and "stupid. stupid. stupid."
JMU's debate team is not the only group on campus unwilling to debate controversial topics.
Earlier this month, a trans scholar backed out of plans to debate Michael Knowles at the University of Pittsburgh.
In March, the top diversity, equity and inclusion administrators at the Massachusetts Institute of Technology would not take part in a debate on DEI at their school.
MORE: A debate on DEI will be held at MIT. The university's DEI deans refuse to participate.
IMAGES: social media screenshots
Like The College Fix on Facebook / Follow us on Twitter