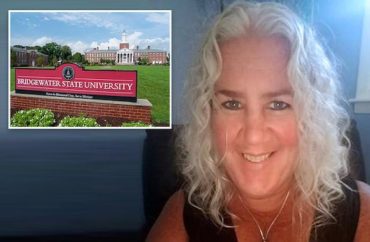 A Connecticut social worker has filed a race and employment discrimination lawsuit against Bridgewater State University after it asked her to "defend her whiteness" in a job interview.
Donna Johnston, one of ten applicants for three open positions in the School of Social Work, said she was "floored" by the statement, in addition to being told that "Black students may not be able to relate to [her] because of [her] white privilege," The Boston Globe reports.
Johnston says her qualifications are "superior" to the three women who ended up being hired by Bridgewater State. The university claims race played "no factor" in its hiring decisions.
"Any possibility of discriminatory motive is contradicted by the fact that the university ultimately hired two Caucasians," Bridgewater State said in a statement. (The third hire was a black female.) It also said Johnston "lacked expertise and live classroom experience and failed to present herself as student focused" in its statement filed last month with the Massachusetts Commission Against Discrimination.
According to the Globe report, Johnston previously had taught at Southern New Hampshire University and Virginia Commonwealth University. She said she expected questions about that experience, along with her "clinical practice, field work," not about her "whiteness."
MORE: Children 'abused into becoming white humans': CRT 'expert'
Johnston's lawyer said "If somebody had said to a Black applicant, let's talk about your blackness, or how does your blackness affect something, there'd be outrage."
"How I was treated during the interview was wrong," Johnston said. "I'm probably not the only one who has endured something like this. Maybe they haven't spoken up. So, if nothing else, maybe I will give people the courage and the strength to come forward."

The three-page lawsuit, filed Feb. 24 in Plymouth Superior Court, demands a jury trial and $50,000 in damages.

The white privilege question, posed by an associate professor in Bridgewater State's School of Social Work, was meant to give Johnston an "opportunity to show … how she would use her experience and teaching skills to overcome a common obstacle as a social worker and teacher," according to the university's position statement on the MCAD claim.

Johnston's answer "missed the target," the statement said.
Employment attorney David Belfort agreed that the fact Bridgewater State hired two white applicants will make it tougher for Johnston; however, "it's best to keep race out of the interview process," he said.
Belfort added: "Why bring white into it? The white part is what makes it potentially illegal."
MORE: UNC Greensboro lecturer defends CRT, says 'whiteness is a disease'
IMAGE: Twitter screencap
Like The College Fix on Facebook / Follow us on Twitter