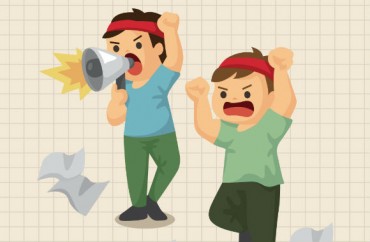 Student protesters at Johns Hopkins University have taken to chaining themselves to stairwells in the campus's main administrative building to protest the private campus police force and the school's contracts with Immigration and Customs Enforcement (ICE).
The sit-in at Garland Hall has reached a month in duration, but demonstrators believe this new tactic "will force the administration to [finally] begin negotiations," The News-Letter reports.
Protester Adela Chelminski of the group Hopkins Coalition Against ICE said the occupiers "felt ignored" by campus officials and that their "continual demands for negotiations were rebuffed." She added that protesters were "not going anywhere" and will remain in Garland through final exams and the summer months, if need be.
The Baltimore Sun reports Johns Hopkins President Ronald Daniels stated in a campus-wide letter on Friday that the situation in Garland had been "dramatically escalated" by the protesters and had become a "health and safety" issue.
Johns Hopkins students lock down administrative building; president says protest has become 'untenable' https://t.co/RN9zn3B0Jg

— Allen Lee Turner (@AllenLeeTurner3) May 4, 2019
Students at Johns Hopkins have chained themselves to the University's admin. office, escalating a nearly month long protest against a private police force and ICE contacts. This is student Adela Chelminski pic.twitter.com/frUjxMjQDk

— Jaisal Noor (@jaisalnoor) May 1, 2019
The members of the sit-in chose to chain themselves to staircases in the building in order to coincide with May Day, which socialists and communists have named as International Workers' Day and the 300th West Wednesday.

West Wednesdays are organized by Tawanda Jones and the West Coalition in remembrance of Jones' brother Tyrone West, a black Baltimore resident who died in police custody in 2013.

Officers of the Baltimore Police Department and the Morgan State Police Department were implicated in West's death.

Since the beginning, community members have expressed their support for the student protesters occupying Garland Hall. …

"What happened to Tyrone West will happen to someone else. The more police we have, the more they are armed and militarized, the more chances that this will happen to someone else," [Baltimore resident Daniel Hellerback]  said.

Hellerback advocated for alternative solutions to a private police force.

"We need to be spending money on community organizations, employment and housing," he said. "These things will make the community a better place to live."
The Sun report says the protesters claim more than 80 Johns Hopkins faculty have asked President Daniels to meet with the occupiers. In his letter, Daniels said he would meet with the students, but "not until they leave the building and 'bring their protest activities back in line with legal requirements and university guidelines.'"
The Baltimore Beat provides a superb summary of the issues surrounding the private police force controversy.
Read the News-Letter and Sun articles.
MORE: Johns Hopkins prof: Trump won by 'invoking white supremacy'
MORE: Johns Hopkins prof: Don't have kids because climate change
IMAGE: notkoo / Shutterstock.com
Like The College Fix on Facebook / Follow us on Twitter