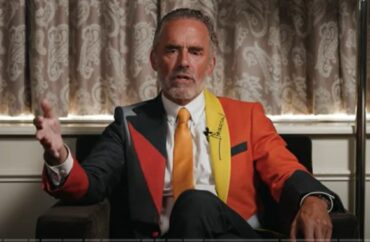 Says Canada demands professionals 'lie' or lose their job
Canadian psychologist and conservative commentator Jordan Peterson said he will keep fighting for his free speech rights after losing an appeal last week before an Ontario court.
The court upheld sanctions against Peterson by a government licensing board that ordered he undergo "re-education," in his words, for his social media posts critical of government leaders.
The College of Psychologists of Ontario can mandate Peterson undergo "a re-education program" with "so-called social media experts," the former University of Toronto professor said on his show on Aug. 24.
Peterson said he plans to seek justice against the "cowardly" ruling at the Supreme Court of Canada.
"Canadians have no idea to what degree professionals in Canada are now required not to say what they think or to lie outright," Peterson said.
Peterson faces disciplinary action from the psychology regulatory board after its leaders argued some of his public statements "may be reasonably regarded by members of the profession as disgraceful, dishonourable and/or unprofessional" and posed "moderate risks of harm to the public," The Fix reported last week.
He challenged the disciplinary action on free speech grounds, but the appeals court sided with the college in a decision that Peterson said was "worse" than he thought it would be.
"They just basically said of course you have the right of freedom of speech except when it comes to, let's say, political opinions," Peterson said.
"Apparently the college has the right to decide that I can be re-educated forcibly with the risk of my license essentially because I made political statements that the members of the college don't agree with," he continued.
Peterson said other professionals, including psychologists, doctors and lawyers, have told him that he is one of the few people with the resources and public influence to fight this fight in Canada.
Along with being "hyper expensive," he said a lawsuit also is "stressful, it's complex, it's time consuming. It could involve the suspension of my license, and there's not really anything that can be done to me that's a threat."
Peterson stopped his clinical practice when he became publicly well-known, so taking his license away would not stop him from earning a living.
However, most other professionals are not in that position, and some are being forced to outright lie about gender issues or risk losing their livelihood, he said.
At issue in Peterson's case were statements he made referring to Prime Minister Justin Trudeau's former Secretary Gerald Butts as a "prik," stating transgender actress "Ellen Page just had her breasts removed by a criminal physician" and calling a plus-sized model "not beautiful," among other things, according to the decision.
Peterson said he hopes his pessimism about the future of his country is wrong. He said he is not optimistic about the appeal but plans to fight anyway.
"For the life of me, I can't see how I'm wrong. I think I have a responsibility to say what I think, and I think many people agree with that," he said.
"I will make absolutely every bit of this public in a way that the college and the courts can hardly imagine. So, away we go."
MORE: Musk promises to support people canceled for Twitter activity
IMAGE: Jordan B Peterson/YouTube
Like The College Fix on Facebook / Follow us on Twitter