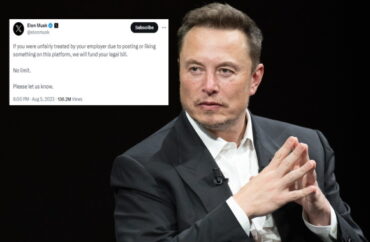 Elon Musk recently shared on X that he would cover legal expenses and sue on behalf of individuals who have been treated unfairly by employers for their activity on the platform—and at least two embattled scholars said they're looking into taking the mogul up on his offer.
"If you were unfairly treated by your employer due to posting or liking something on this platform, we will fund your legal bill. No limit. Please let us know," Musk posted on Aug. 5.
"And we won't just sue," he added, " it will be extremely loud and we will go after the boards of directors of the companies too."
Ilya Shapiro, a senior fellow and director of constitutional studies at the Manhattan Institute, said in an email to The College Fix, "If handled sensibly, this funding offer could really be transformative as a pushback on cancel culture."
Shapiro was suspended in February by Georgetown University for his post on X about President Joe Biden's pick for a Supreme Court vacancy. While the university reinstated him following a four-month investigation, he decided to quit anyway to avoid "constantly walking on eggshells."
Shapiro, who replied "On it" on Aug. 6 to Musk's post, told The College Fix on Aug. 13 he had not yet heard back from Musk.
If you were unfairly treated by your employer due to posting or liking something on this platform, we will fund your legal bill.

No limit.

Please let us know.

— Elon Musk (@elonmusk) August 6, 2023
Charles Negy, a psychology professor at the University of Central Florida, was fired after making comments about "black privilege," with his lawyer noting, "UCF persecuted [Negy] with a relentlessness and a cruelty that is rare even among university administrations."
Despite being later reinstated, Negy has sued the university for, among other things, the "severe emotional distress" he suffered. Negy told The College Fix that he plans on taking Musk up on the offer of financial assistance for his lawsuit.
Musk's offer has been lauded by prominent figures who see it as countering cancel culture and advocating for free speech.
Chairman of JetBlue Airways and Stanford Professor Joel Peterson told The College Fix he is "supportive of Musk's efforts to protect those abused by overweening leaders," emphasizing that "protecting free speech is one of the most important things we can do as a society."
In 2020, Peterson was reported by Stanford students to the dean's office for saying that hiring should be based on "character, competence and commitment" instead of skin color or gender. He was also labeled "a racist" by a Black Lives Matter advocate for standing for the American flag.
Musk's announcement came just hours after NASCAR suspended 25-year-old driver Noah Gragson for liking an Instagram meme about George Floyd, whose death in 2020 sparked an outpouring of rage and violent protests against police tactics.
A self-described "free-speech absolutist," Musk has not shied away from showing his disdain for cancel culture.
"RIP Cancel Culture, you won't be missed," he replied on X to Joe Rogan's podcast episode titled "Matt Taibbi & Joe Rogan on Twitter 2.0 and the Fall of Cancel Culture."
After Twitter accepted his offer to acquire the company for $44 billion on Apr. 25, Musk explained his vision: "Free speech is the bedrock of a functioning democracy, and Twitter is the digital town square where matters vital to the future of humanity are debated."
Some, however, remain skeptical of Musk's efforts in the name of free speech. For example, Holly Lawford-Smith, an associate professor in political philosophy at the University of Melbourne, denounced Musk's promise to pay legal fees as "a publicity stunt."
"[Musk] has not provided any route to reporting such treatment or requesting such funds, beyond people merely commenting on his thread along with (currently) 36K+ others," she noted.
Professor Negy echoed this sentiment, saying he is not yet aware of "any mechanism through which to make this request of Musk."
Moreover, Musk has faced criticism for reportedly not living up to his own standards. The business magnate punished several employees and users of X who expressed views or took actions he disagreed with, according to The New York Times and USA Today.
In 2022, Musk banned an account tracking the movements of his private jet with publicly available information and suspended journalists who posted links to the jet tracker.
"Criticizing me all day long is totally fine, but doxxing my real-time location and endangering my family is not," Musk later said in defending his decision.
In response to a post on X claiming that he "has fired numerous employees who were critical of him on Twitter and the company's Slack," Musk said, "I would like to apologize for firing these geniuses. Their immense talent will no doubt be of great use elsewhere."
IMAGE: Frederic Legrand / Shutterstock
Like The College Fix on Facebook / Follow us on Twitter