Pulitzer Prize winner
Howard University journalism Professor Nikole Hannah-Jones quickly took to spreading falsehoods about Kyle Rittenhouse after his verdict.
A Kenosha County, Wisconsin jury on Friday found Rittenhouse not guilty on all counts stemming from his August 2020 killing of two people and wounding a third who attacked him during a riot.
In response to the verdict, Hannah-Jones, who touted her Pulitzer Prize award when applying for a journalism teaching job at the University of North Carolina, repeated falsehoods about the facts of the case.
"Even if you feel the jury got it right for legal reasons, what kind of person are you to celebrate *someone* who went armed to a protest with an illegal gun and killed two people," she tweeted on Friday. But Judge Bruce Schroeder had ruled prior to the jury decision that Rittenhouse did not carry an illegal gun under Wisconsin state law.
Hannah-Jones also repeated the falsehood that Rittenhouse carried the gun illegally into Wisconsin.
"He carried a gun he could not legally have illegally across state lines and killed two people," Professor Hannah-Jones wrote in a since-deleted tweet.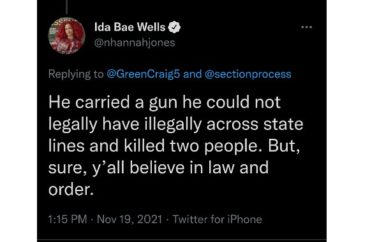 She threw in a second falsehood to back up her assertion after Reason editor Billy Binion corrected her.
"He had the gun illegally. It was illegally purchased for him because he was underage, correct?" the professor of journalism said.
Rittenhouse did not carry a gun across state lines. The Milwaukee Journal-Sentinel reported on August 26, 2020 — 15 months ago — that the gun did not cross from Illinois into Wisconsin. His friend Dominick Black did not "illegally" purchase the gun "for him."
Rittenhouse gave the money to Black for the gun, as he testified on November 11, and the AR-15 would stay in Wisconsin, in a safe, at Black's stepdad's home.
"Once I'm 18 we can do a private sale and we can have it turned over to my name once I turned 18," Rittenhouse recounted to the jury about his conversations over the purchase of the gun.
Hannah-Jones also said that the two people killed by Rittenhouse were "fighting for Black lives."
"In this country, you can even kill white people and get away with it if those white people are fighting for Black lives. This is the legacy of 1619," Hannah-Jones said, in reference to her historically inaccurate "1619 Project."
Hannah-Jones claims for the Black Lives Matter side convicted child rapist Joseph Rosenbaum, who repeated "Shoot me n***a" during the protests whilst yelling at armed men.
The other person killed by Rittenhouse is Anthony Huber.
Huber had a record of domestic abuse and he was "found guilty of a felony for strangulation and suffocation, domestic abuse," Heavy.com reported.
MORE: Temple professor triggered over 'Proud to be an American' ringtone
IMAGE: Nikole Hannah-Jones/Twitter
Like The College Fix on Facebook / Follow us on Twitter