A judge has ruled a free speech lawsuit filed by a professor who was blocked on Twitter by a University of Oregon account after he tweeted "all men are created equal" may proceed.
Portland State University Professor Bruce Gilley's lawsuit was filed last summer, and in late January U.S. District Judge Marco Hernandez denied the university's motion to dismiss.
But the ruling was billed as only a partial victory for Gilley, as Judge Hernandez declined to issue a preliminary injunction against the university from blocking the professor again.
With that, Gilley's attorneys filed an appeal with the Ninth Circuit Court of Appeals.
"We are hoping the Ninth Circuit reverses the district court and imposes a preliminary injunction," said Del Kolde, a senior attorney with the Institute for Free Speech, which represents Gilley.
"The case is about making a point that the First Amendment protects viewpoint diversity, including the right to criticize the secular religion of DEI," Kolde told The College Fix via email.
In response to the appeal over the preliminary injunction, the University of Oregon cross appealed their motion to dismiss to the Ninth Circuit Court of Appeals.
"We believe that their cross appeal is not proper, so we filed a motion to dismiss their cross appeal, and are awaiting a ruling on that," Kolde told The Fix on Tuesday.
If the Ninth Circuit Court of Appeals also refuses to dismiss the case, then the motion on the preliminary injunction will be considered, he said.
The crux of the case centers on a Twitter dispute from last summer.
UO's Equity and Inclusion Twitter account had tweeted "You can interrupt racism" with a wording prompt on how to start such a conversation: "It sounded like you just said [blank]. Is that what you really meant?"
In response, Gilley retweeted it with the statement "all men are created equal," tagging both the University of Oregon and its Equity and Inclusion Twitter accounts.
The lawsuit alleges Tova Stabin, communication manager for the university's Division of Equity and Inclusion, blocked Gilley as a result.
"Blocking also removed Bruce Gilley's 'all men are created equal' reply from @UOEquity's timeline and prevented other users from viewing it or interacting with it, and with Gilley, including followers of the @UOEquity account," the lawsuit states.
The suit claims the reason Stabin blocked Gilley is because "she and her employer disagree with the viewpoint … that 'all men are created equal.'" It also alleges Stabin "believes that Prof. Gilley's opinion is critical of her employer's DEI ideology and she wishes to suppress his viewpoint."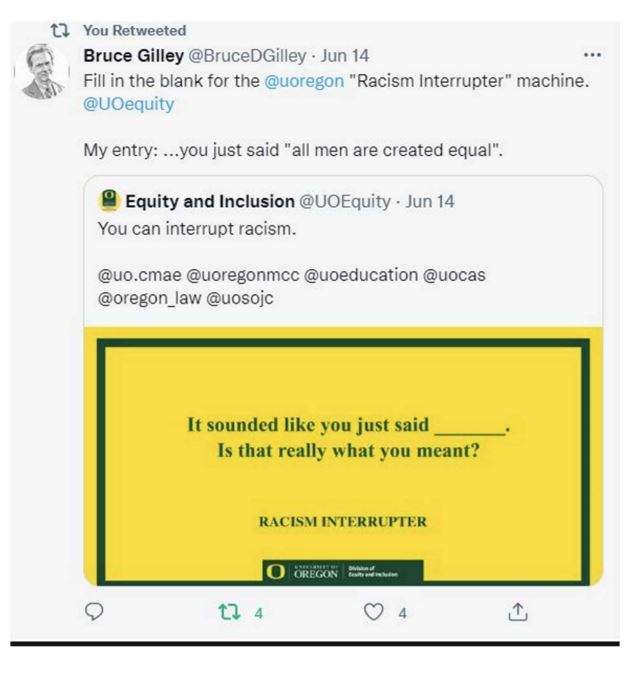 Hernandez's ruling did seem to partially agree with that assessment.
"There is also evidence to support the conclusion that Defendant stabin blocked Plaintiff due to his viewpoint," wrote the judge, honoring stabin's request to spell her name with lowercase letters.
However the judge also appeared to suggest that the case is somewhat moot at this point, noting it's a rare anomaly for @UOEquity Twitter to block anyone and adding Stabin has since retired.
"In this context, it would be speculative to conclude that this unknown successor is likely to block Plaintiff on Twitter again. Plaintiff has not met his burden to show that he is likely to be blocked in the future," Hernandez's ruled.
And The Oregonian reported last month that after "Gilley filed his lawsuit, the university unblocked him and the university's general counsel sent him a letter informing him that the school didn't intend to block him in the future."
"Internal emails revealed that UO's general counsel requested that Gilley be unblocked immediately unless he engaged in speech 'not protected by the United States and Oregon Constitutions,' according to the judge's opinion. The UO's communication department also sent an email to staff reinforcing that 'viewpoint discrimination' isn't permitted when managing social media accounts," the newspaper reported.
MORE: Professor blocked for tweeting 'all men are created equal' files First Amendment lawsuit
Like The College Fix on Facebook / Follow us on Twitter