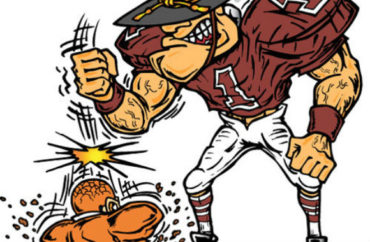 UPDATED
Why are the plaintiffs anonymous? So they won't get doxxed
AUSTIN – U.S. District Judge Lee Yeakel would rather get this First Amendment lawsuit off his docket and have the parties resolve their differences privately.
Speech First's effort to halt the University of Texas-Austin's speech codes got off to a rocky start at a Friday court hearing. While the nonprofit free-speech group is seeking a preliminary injunction against the codes as the lawsuit proceeds, Yeakel said he would rather rule quickly on the most basic issue: whether Speech First has legal standing.
The public university agreed with Yeakel's preference, and its lawyer Charles Babcock even suggested that Speech First's pseudonymous student clients may not exist.
Speech First's lawyer Cameron Norris responded that vocally conservative students have been physically threatened by anonymous campus radicals, justifying why its clients want to remain unnamed for now.
The original lawsuit's lengthy list of defendants – including the dean of students and 14 members of UT's Campus Climate Response Team – has also been pared back to just UT President Greg Fenves.
Yeakel called the motion for preliminary injunction "inefficient." He believes there is "enough already in what I had seen" to determine if Speech First has standing on behalf of its members, and he'd like to "wrap it with a ribbon" the week of March 4.
But the judge seemed sympathetic to the plaintiffs on one major issue: whether UT's residence hall manual is too subjective for students to know what speech is punishable.
Bias response team is like unconstitutional 'morality commission'
The first and only thing the university and Speech First agreed on was the breadth of the nonprofit's challenge.
They confirmed to Judge Yeakel that the case was a facial challenge, meaning that the university's policies are always unconstitutional, regardless of how they are applied.
Norris started his arguments with a joke, promising to take only 30-40 minutes of his allotted hour as an apology for taking the "slower path" of injunction frowned on by Yeakel.
The "injury" committed by the university against his student clients is "chilling speech," Norris said. He quoted from a legal text on "canons of construction" that "if there is a conflict between a general provision and a specific provision, the specific provision prevails." That means a chilling effect from UT's policies render them unconstitutional.
The university's "acceptable use policy" for electronic communication on campus uses "mandatory language" to prohibit speech that others might subjectively consider "uncivil, rude, harassing, or repetitive," Norris argued. It imposes "consequences for violating the rules," from "revocation of access privileges" to suspension.
Judge Yeakel asked Norris if somebody "has a right to harass" – to communicate with those who don't want to. This referred to Speech First's hypothetical example of UT punishing a student for sending a single message to another student after the latter rejects communication.
While the university can't constitutionally limit communication in such a way, it could legally create a "block feature" where students can limit the communication they receive individually, Norris said.
Norris next cited the "overbroad" language in the Residence Hall Manual, which says uncivil language is "not permitted" and defines "harassment and intimidation" by a "long list of -isms, like cissexism and ableism." It also uses disciplinary language for violations.
These are far beyond permissible speech regulations on fighting words and harassment, the lawyer continued: UT is "overstepping into constitutional vagueness," and its "only defense is that the rules were not mandatory."
Yeakel interrupted Norris when he said students can be expelled if they violate the verbal harassment policy, asking if such a punishment had ever happened.
Punishment "doesn't have to be enforced," Norris responded. The university can't defeat a preliminary injunction by "simply alluding" to "the existence of a plausible defense," he said, citing a case involving the Dallas Cowboys' cheerleaders.
In arguing against UT's Campus Climate Response Team, its term for a bias response team, Norris said the team would still be unconstitutional even if "the CCRT only chilled to an objective standard."
He cited a Supreme Court ruling against a Rhode Island "morality commission" that was created to curb obscene materials. The commission took in complaints, warned the stores selling the materials that they were obscene, and referred those establishments to police.
The high court determined this was a 14th Amendment violation, subjecting "the distribution of publications to a system of prior administrative restraints without any provision for notice and hearing" or judicial review of "objectionable" determinations.
Similarly, UT students stay quiet because if they say something perceived as "biased," it will get reported, logged on a public website, and trigger "information gathering" efforts and "meetings" with university administrators, Norris argued. They also risk informal punishments such as training, re-education, dispute resolution, or "referral" for formal discipline by a CCRT "partner" –  consequences that UT doesn't disclaim.
The CCRT implicitly threatens discipline and is designed to "look like a disciplinary body—from its name, to its terminology (calling students 'offenders'), to its members (including disciplinarians and police officers)," he told Yeakel.
Do your student clients even exist?
UT lawyer Babcock, whose clients have included Oprah Winfrey, broadly argued that Speech First can't show that university policies have chilled student speech. One such policy, Section 13 of the University Catalog, explicitly protects freedom of speech and assembly.
The policies certainly haven't inhibited activism by the Young Conservatives of Texas, for example, and UT even brought charges quickly against a student who physically attacked a conservative speaker, Babcock said.
He took issue with Speech First's process of finding litigation targets, claiming that the organization looks for universities with a "large endowment" and an "army of lawyers."
That's paraphrasing part of Speech First's website, which says it defends students who don't "stand a chance against a school with a huge endowment and an army of lawyers."
Babcock rejected Speech First's claim that a civil-liberties group's report on bias response teams counted as evidence against UT.
The CCRT has two functions, he said: to speak to the "reporters" of campus bias incidents and compile statistical information for annual reports. It does not contact any alleged perpetrators or investigate the alleged incident "beyond speaking with the reporter."
Asked by Yeakel what role the campus environment plays in such policy, Babcock claimed that fear of self-censorship has to be reasonable. He cited Speech First's early trouble in its first case against a bias response team: Another federal judge said the University of Michigan's team was not an "implicit threat to students' right to free speech."
The UT campus is full of events that show speech isn't being chilled by university policy, particularly by the Young Conservatives of Texas, Babcock continued. He claimed that "no member of YCT has been disciplined" for any act of expression, even its controversial "affirmative action bake sale."
Attempts to get YCT removed from campus have come from the student government, he said, yet even then student leaders overwhelmingly voted against removing YCT.
To show the university's quick response to attacks on conservatives, Babcock played video from an event where Turning Point USA founder Charlie Kirk visited campus. A student splashed water on Kirk and was immediately removed by police, later receiving a Class C misdemeanor. Other such punishments against disruptors were highlighted through police body cam footage.
Babcock also questioned Speech First's use of anonymous testimony, wondering aloud if the three student clients – identified as "A," "B" and "C" – "even exist at all."
The lawyer went even further in a presentation he showed in court. "Anonymous Student A Is The Same In Michigan and Texas," one slide read, noting that Speech First used the same words to describe its first client's motivation to attend college in each lawsuit. The two "Student A" clients differ in one respect, however: their sex. (The presentation does not necessarily display on phones. See version below).
Yeakel also expressed doubt that anonymous student testimonials are good enough. Norris responded to both by noting the consequences that YCT members have suffered by publicly identifying themselves.
They have been "doxxed" by the Autonomous Student Network at UT, meaning that YCT members' private information such as email addresses, phone numbers and the like were published, Norris said. The law does not require his clients at this stage to reveal their identities, which would be shielded by confidentiality even if disclosed to the court.
University of Texas-Austin presentation in federal court against Speech First lawsuit by The College Fix on Scribd
Judge wonders if anyone can decide what 'people can and can't say'
Babcock first tripped up with Yeakel when the judge asked about the Residence Hall Manual. Yeakel wondered if it "makes such enforcement a subjective test" in which any aggrieved person can decide what "people can and can't say."
The judge noted that people often have to say something "out loud first" to test if it indeed offends someone.
When Babcock claimed that "common sense" would be deployed to ensure policies aren't used to unfairly penalize a student, Yeakel said common sense alone wasn't enough.
Babcock defended the manual's existence by citing people of varying values and backgrounds "all living in a small space." Yeakel suggested his own hypothetical test for the manual's subjectivity: Would the university investigate a complaint by a transfer student from UT's rival Texas A&M University who felt unwelcomed by UT students?
Speech First simply hasn't met its burden for legal standing or "substantial likelihood of success on the merits," Babcock concluded. Citing another Supreme Court ruling, he said a policy is not void for vagueness if it "gives the person of ordinary intelligence a reasonable opportunity to know what is prohibited, so that he may act accordingly."
In his response to Babcock, Norris called out a legal error by his opponent. The university is wrong that its verbal-harassment rule "tracks the essence of the Davis standard," the Supreme Court's test for peer-on-peer harassment in an educational setting.
The Davis case involved "public schoolchildren," Norris said: It's not applicable in this situation to UT students since "the free-speech rights of adults at public universities are far broader."
UPDATE: The Fix uploaded the university's presentation in court because the link may say the file has been removed when visited from mobile browsers. 
IMAGE: Robert2301/Shutterstock
Like The College Fix on Facebook / Follow us on Twitter