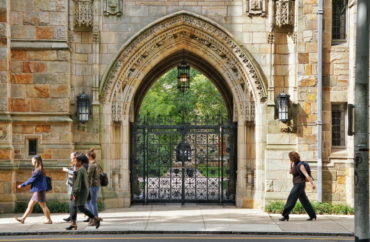 'They have set up a system to, in effect, insulate themselves from true alumni participation'
A judge recently ruled that a lawsuit may proceed against Yale University that challenges administrators' decision to yank a pathway for alumni to gain leadership roles at the Ivy League institution.
Connecticut Superior Court Judge John Burns Farley ruled Dec. 15 against completely accepting Yale's motion to dismiss, stating the plaintiffs, two Yale alumni, appear to have standing to sue as third-party beneficiaries of the institution.
The plaintiffs, Victor Ashe and Donald Glascoff, are working to overturn a May 2021 decision by Yale officials to discontinue a petition pathway that allowed alumni to be elected to the Yale Corporation, its board of trustees.
Ashe, 77, celebrated the ruling as a vital victory in the fight against his alma mater.
"It's a giant step forward," Ashe said in a telephone interview. "This will be the first time Yale will have to discuss issues on the merits in a court of law."
The lawsuit was filed in March of this year after Yale announced it was ending the petition process that allowed alumni to be elected to the board of trustees after getting on the ballot through a lengthy petition process that includes gaining more than 4,000 alumni signatures of support.
The announcement was made on the same day in May 2021 that Ashe lost his election bid to become a trustee.
Now the only way to become a trustee is to be nominated by the Alumni Fellow Nominating Committee, run mostly by administrators, Ashe said.
"I want to make sure future alumni have the right to run if they so desire and they don't have to be vetted through some secret committee of the alumni association," he said. "They have set up a system to, in effect, insulate themselves from true alumni participation."
He said the decision to end the petition process was "done in secret, there was no consultation with any alumni, and the process they used was out of Putin's playbook."
Ashe, a 1967 graduate of Yale, a former mayor of Knoxville for 16 years, and former U.S. ambassador to Poland, said he ran for the Yale board on a platform of transparency.
"For example, the minutes of the corporation are embargoed for 50 years — half a century — you don't even know what they talked about," he said. "They don't even release an agenda, they don't even release a summary of what they did, other than what they choose to release."
Meanwhile, Yale "faces all sorts of issues," he added, citing concerns such as the protection of free speech on campus, affirmative action controversies, and more.
Yale media relations team did not respond to requests from The College Fix on Tuesday and Wednesday seeking comment. An email to the Yale Corporation also went unreturned.
The 19-member board of trustees includes the governor and lieutenant governor of Connecticut, 11 successor trustees, and six alumni representatives. It serves as the university's "principal governing body [to …] ensure that Yale's academic and administrative leadership are guided by sound policies and practices," its website states.
The Yale Daily News reported that the Yale Charter "was amended in 1872 by the Connecticut General Assembly to replace the six senators from the general assembly who sat on the Yale Corporation with six alumni of the University. The text of the 1872 Amendment grants alumni the right to vote for any eligible graduate of the University that they want and to put themselves up for a vote as a candidate."
Ashe, who is collecting money for his legal battle against the school, told The Fix that "as long as I am alive I am going to support democratic principles and inclusion, which is what I thought Yale stood for, but apparently they only stand for their own internal affairs."
MORE: Yale charges its own buildings for carbon emissions
IMAGE: Helioscope / Shutterstock
Like The College Fix on Facebook / Follow us on Twitter