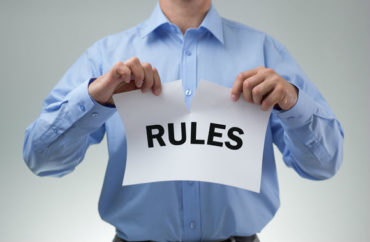 Refuses to take the university's word for it
Syracuse University plausibly employed a "result-driven" process in a sexual misconduct proceeding to find a male student guilty, a federal judge ruled last month, denying the university's motion to dismiss the expelled student's lawsuit.
"John Doe" alleged that Syracuse violated Title IX and the New York constitution's due process clause, and committed breach of contract, negligence and gross negligence in the Title IX proceeding against him.
U.S. District Judge Brenda Sannes dismissed most of these but allowed a handful of breach-of-contract claims to go forward, including John's assertion that Syracuse ignored its own evidence standard. (The university has yet to challenge some of his other claims.)
"This is a major victory," Allen Law, which represents John, wrote in a blog post: Sannes firmly rejected Syracuse's contention that its Student Code and policies were unenforceable as "contractual promises."
"In New York, the policies, handbooks, and student codes published by the university are binding contracts with students," the law firm wrote. "John Doe argued for the simple position that a university like Syracuse should be held accountable for not following its own rules."
The  "significant" ruling drew cheers from the Foundation for Individual Rights in Education as well.
"The court refused to take at face value the university's own representation about the evidentiary standard it employed," wrote Samantha Harris, vice president for procedural advocacy. "Rather, it went deeper to look at whether, given the way the university conducted its disciplinary process, that representation was actually accurate."
The case is notable for at least two reasons. The accused and the accuser were both virgins who had "resolved to remain abstinent until marriage" and regretted their sexual encounters as a violation of "their Christian values," according to John.
Allen Law also noted that Syracuse has been sued on similar grounds at least half a dozen times, with each disputed proceeding directed by Sheila Johnson-Willis, chief of equal opportunity and Title IX officer. Four years ago, Johnson-Willis was captured on video (below) cutting up a copy of the Constitution in an undercover sting by Project Veritas.
MORE: Suit says Syracuse refused to give accused student written allegations
More than a 'non-actionable statement of general policy'
John and "RP" had consensual sex three times in fall 2016, according to John, whose "well-pleaded factual allegations" Judge Sannes must take as true at this stage of litigation.
After the third encounter, RP spoke with a Syracuse professor who encouraged her "to rethink the consensual events of [the third encounter] as non-consensual," John alleged. Soon after she deleted all her text messages with John, "eliminating evidence of their consensual contact and communications."
John alleged that RP went to the university with her complaints but changed her story multiple times, and she ended up not bringing a Title IX complaint against him.
Syracuse itself initiated the Title IX complaint a month after the Syracuse Police Department closed its criminal investigation, which documented RP's religious guilt and a "pregnancy scare" as possible exculpatory evidence. John alleges Syracuse did this "in response to public and governmental pressure to extirpate the so-called 'rape culture' among Syracuse male students."
Syracuse is wrong to describe its preponderance-of-evidence standard – commonly known as "more likely than not" – as a "non-actionable statement of general policy" with no legal force, Judge Sannes wrote.
MORE: Judge faults Syracuse for ignoring myriad problems with accuser's claims
She found that John had "alleged specific facts in support of his allegation that the credibility determinations against him and in favor of RP were not rationally based on the evidence," calling the preponderance finding into question.
She reviewed the questionable processes the university employed in conducting its investigation, including its "initiation of the complaint against him one day after the [Department of Education's] Office for Civil Rights" visited campus. That was two months after RP's informal complaint.
The judge also pointed to Syracuse's report that deemed RP credible without assessing any of the contradictions in her testimony, even as the University Conduct Board found that she "made multiple untrue statements" about her encounters with John.
The accused student further showed the deficiencies with the credibility determinations, Sannes said, by noting Syracuse used "trauma informed techniques." These practices "turn unreliable evidence into its opposite" by counting inconsistencies in the female accuser's account as evidence of its veracity, John argued.
Judge questions Syracuse's adherence to its own evidence standard in rape case by The College Fix on Scribd
'All too frequently, campus bureaucrats do not even weigh the evidence at all'
Universities often defend themselves in court "by arguing that they are entitled to weigh evidence however they wish, so long as they follow their procedures consistently," Allen Law wrote in its dissection of the ruling.
They want judges to bless their kangaroo courts, "so long as the kangaroos abide by university rules."
Yet the ongoing arguments over the legitimacy of the preponderance standard in quasi-criminal proceedings misses the point that Sannes addressed: "All too frequently, campus bureaucrats do not even weigh the evidence at all."
Her ruling provides "an important warning," the firm said: "Universities can no longer take a haphazard, arbitrary approach to evidence and then hide behind formal procedures to justify any result they wish."
MORE: Law professor accuses Syracuse of 'sham' proceeding against fraternity
The ruling is great news for students seeking to challenge bad disciplinary policies, according to FIRE's Harris.
By holding that "biased, one-sided procedures may actually conflict with a university's contractual promise to employ the preponderance of the evidence standard, the court's ruling gives accused students another avenue to challenge sham disciplinary processes," she wrote.
There was one caveat­: Sannes dismissed John's claim that Syracuse must be held legally accountable for its representation that students had a right to "fundamental fairness" in disciplinary proceedings. The judge agreed with Syracuse that this was a "non-actionable statement[] of general policy."
Harris found this to be "one very disappointing aspect to the ruling," because it absolves universities of responsibility for ignoring their promises to students.
"Otherwise, universities can engage in a bait-and-switch where they advertise themselves as free institutions to attract talented students and faculty, and then deprive people of their fundamental rights as soon as they step foot on campus," Harris wrote.
MORE: Title IX professionals warn colleges to be wary of 'trauma-informed'
IMAGE: Brian A Jackson/Shutterstock
Like The College Fix on Facebook / Follow us on Twitter