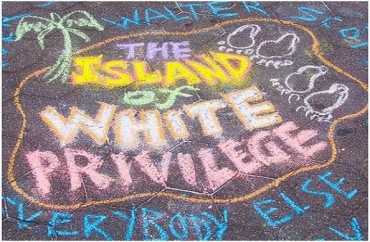 Seemingly because contemporary American universities don't already do enough about so-called social justice and diversity, Brown University's Office of Campus Life and Student Services held a day-long "professional development" on the topics, and attendance topped 150 participants.
Called the "Social Justice Retreat: An Engaging and Open Space for Discussing Power, Privilege and Oppression," both the morning and afternoon workshops during the January 19 affair "were packed with staff members," according to Associate Dean Mary Grace Almandrez.
One of the "three main purposes" of the event was for staff to "demonstrate their commitment to social justice."
How delightfully Culturally Revolutionary, eh?
The Brown Daily Herald reports:
The day opened with a plenary session hosted by Almandrez and Tim Shiner, director of the Stephen Robert '62 Campus Center and Student Activities. Staff members had the opportunity to attend 13 other workshops and two exhibits throughout the remainder of the day, covering a diverse range of issues. Popular workshops included "Islamophobia," "What is Race?," "Racial Battle Fatigue," "Privilege in Athletics" and "On Being 'Black': The Racialized Experience of International Students," Almandrez said.
RELATED: Wesleyan activists demand microaggression-reporting system, 'mandatory social justice workshops'
Associate University Chaplain Adrian Wood-Smith hosted the Islamophobia workshop, a presentation on "Islam, traditional Islam and what that tends to mean to the majority of Muslims," Wood-Smith said. Throughout the presentation, he gave "a sense of the struggles that Muslim students and all Muslims are going through right now" and offered advice to attendees about how they could support those students and all Muslim Americans, Wood-Smith added.
Interestingly, there wasn't a session on anti-Semitism, considering there are vastly more hate crimes against Jews than Muslims in the United States.
Brown itself had to deal with anti-Jewish sentiment just last week when the its Students for Justice in Palestine chapter protested a talk by actor Michael Douglas and human rights activist Natan Sharansky.
The duo wasn't even there to discuss politics, just their life experiences as Jewish individuals. Nonetheless, to SJP, the two were accused of "acting on behalf" of the Israeli government.
RELATED: White Heterosexual Students Banned From Public University's Diversity Workshops
Like The College Fix on Facebook / Follow us on Twitter
IMAGE: waywuwei/Flickr