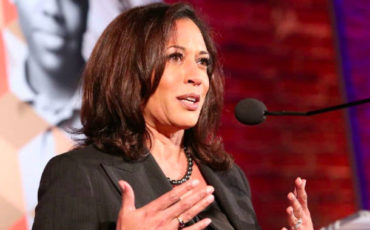 As many (most?) could predict with a high degree of accuracy, California Senator Kamala Harris backed off her well-highlighted Democratic debate attack on former veep Joe Biden regarding the subject of school busing.
On June 27, Harris scored immediate "zinger" points by inferring Biden was a racist for opposing (forced) busing, just like segregationist lawmakers of the era. And she continued with that premise a few days after the debate, too.
The problem is, virtually no one was (and is) a fan of mandated busing, whites and blacks alike. As one black Wilmington, Delaware resident said of the most "draconian" busing plan in the nation, "It was the biggest sham. It destroyed our community."
WATCH: Harris says she doesn't think Biden is a racist, but she talks directly to Biden about his having worked with segregationists on the issue of school busing. #DemDebate2 pic.twitter.com/Ytb2xvOhux

— NBC News (@NBCNews) June 28, 2019
On Wednesday, Harris "clarified": She said busing is "a choice local school districts have" and is "not the responsibility of the federal government."
When pressed on whether busing should be mandated, Harris added "I think of busing as being in the toolbox of what is available and what can be used for the goal of desegregating America's schools […] I believe that any tool that is in the toolbox should be considered by a school district."
That's precisely what many wanted to do in Biden's home state of Delaware, specifically Wilmington and its suburbs: let districts come up with ways to desegregate schools. Two years before the feds initiated their sweeping plan, there were voluntary plans in the state's northernmost county. They were deemed insufficient.
According to FoxNews.com, Biden (rightly) got a good chuckle out of Harris's backtrack:
"It's so easy to go back 30, 40, 50 years and take a context and take it completely out of context," Biden told CNN anchor Chris Cuomo. "I get all this information about other people's past and what they've done and, you know, I'm just not gonna go there… we should be debating what we do from here."

He continued, "For example, this whole thing about race and busing. Well, I think if you take a look, our positions aren't any different as we're finding out."
Nevertheless, Harris tried to remain on the offensive by invoking the kindred spirit argument — that Biden still is racist because he worked with senators opposed to integration in general on the busing issue:
Sen. Kamala Harris: "[Joe Biden] has yet to agree that his position on this which was to work with segregationists and oppose busing was wrong, period. And you know let's just — do we need to do a quick lesson in history?" pic.twitter.com/JvhEhe7IM2

— The Hill (@thehill) July 5, 2019
Indeed, a quick history lesson will show the following: While young Senator Biden did seek support of fellow (southern) senators who were opposed to racial integration (and it legitimately can be argued that asking such lawmakers to deliver speeches on the issue was a bad move), Biden had specifically noted he didn't "want to be mixed up with a George Wallace" on the issue of busing. According to the Wilmington News Journal, Biden said solving the matter of segregated housing was the key to desegregated schools. Unfortunately, this was a longer-term fix.
Biden's stance echoes what Judge Caleb M. Wright said in Delaware's Evans v. Buchanan case, something which Judge Murray Schwartz ignored with his 1978 desegregation plan:
"When interpreting the equal protection clause in the Brown case the Supreme Court held only that a State may not deny any person on account of race the right to attend a public school […] The clear implication of this statement is that if races are separated because of […] geographic or transportation considerations or other similar criteria, it is no concern of the Federal Constitution. Thus, discrimination is forbidden but integration is not compelled."
MORE: Busing: Joe Biden blasted for opposing something no one likes
MORE: Joe Biden's old comments on forced busing resurface
IMAGE: Twitter
Like The College Fix on Facebook / Follow us on Twitter