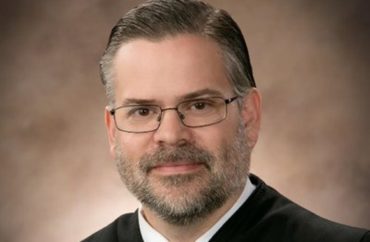 Justice Caleb Stegall said he could not support 'the current direction' of Kansas University Law School
A justice on the Kansas Supreme Court will no longer serve as an adjunct at the Kansas University Law School due to what he sees as a weak response from the administration when it came to a conservative event.
"I write to let you know that…I will not be renewing my teaching relationship with KU Law next fall," Kansas Supreme Court Justice Caleb Stegall wrote a letter to the dean of the University of Kansas School of Law.
Stegall (pictured) had objected to students and administrators' reactions to a lunch-hour with a lawyer from the Alliance Defending Freedom, sponsored by the student chapter of the Federalist Society.
"My understanding, from participants, is that…there was a significant uproar from members of the student body and faculty," Stegall wrote.
Associate Dean Leah Terranova and Professor Pam Keller "pressured the students to cancel the event," Stegall wrote. They informed them that they should be worried about "the impact of their choices" and consider the effect on their reputation, Stegall stated.
In response, Stegall wrote:
Lawyers ought to form the last and best line of defense of the liberal public square and its pillars — a fair hearing for all voices, dispassionate and deliberate judgement, individual not group guilt, protection for dissent, and an ethos that, if not quite capable of walking a mile in another's shoes, can at least tolerate a few minutes of quiet listening in another's presence.

KU Law is not serving its students well — nor is it preparing them to take their place as lawyers in the great conversation (or in Kansas courtrooms) when it engages in bullying and censoring tactics, fosters a spirit of fear, drives dissent into a guerrilla posture, and gives institutional backing and support to overwrought grievances which can and do cripple a person's ability to critically engage with ideas or people with whom they disagree.
In Stegall's telling, students should have been free to invite speakers holding disfavored views without reprisal, and "leaders in the legal community [should have protected] the reputations of students wiling to engage in difficult discussions — and then guide them in that process."
Even worse, he wrote, was an email from the Diversity, Equity, Inclusion and Belonging Committee which described the ADF speaker as guilty of "hate speech" and "made it very clear that the principles of free and open dialogue are only acquiesced to as a legal obligation at KU Law — they are not celebrated, cherished, or valued."
The university's failure to guide students and engage with speakers in this way, Stegall wrote, prompted his decision to quit.
Stegall wrote that the law school owes "better" to its students and to "the future of the rule of law in Kansas"
"I can't continue to provide tacit support to the current direction through my teaching affiliation with KU Law," he wrote. "Not when that direction so clearly threatens the basic pillars of our profession."
MORE: Yale law dean wants amends with conservative judges: report
IMAGE: JusticeCStegall/Twitter
Like The College Fix on Facebook / Follow us on Twitter