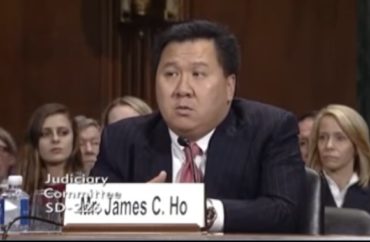 Target of Yale Law School cancel culture remains skeptical of potential for change
The dean of Yale Law School reportedly wants to mend relationships between conservative judges and the Ivy League institution.
The boycott, started by Fifth Circuit Court of Appeals Judge James Ho, would apply to future students and came after multiple incidents of cancel culture on campus.
Those incidents included an attempted compelled apology sought by administrators against conservative Native American law student Trent Colbert, who faced an uproar among his peers for using the term "trap house" in reference to a joint event between the campus Native American law student group and the Yale Federalist Society chapter.
Fellow federal judge, Eleventh Circuit judge Elizabeth Branch, has been invited by Dean Heather Gerken to speak at the law school in January 2023, according to a letter obtained by legal commentator David Lat, a Yale law school alumnus.
Both Branch and Ho will speak at Yale on November 30, at an independent event hosted by the Buckley Program, according to The Washington Free Beacon. The campus newspaper the Yale Daily News reported that the event will focus on free speech.
The College Fix reached out to Judge Ho through one of his clerks about meetings with Gerken and what the judge would like to see changed at Yale. A voicemail left for the clerk has not been returned in the past several weeks. Gerken has also not responded to a request for comment on her conversations with Ho and free speech at Yale, sent in the past month.
MORE: Far-left Yale law students want conservative peers ostracized
Another incident that led to the boycott, which reportedly now includes over a dozen federal judges, was the university's perceived mishandling of an event on campus with Alliance Defending Freedom's Kristen Waggoner, an accomplished Supreme Court litigator. In March, activists, including law students,  screamed and disrupted an event with Waggoner.
She shared with The Fix that while the news of Dean Gerken's support for free speech is encouraging, she remains skeptical.
"While Dean Gerken's offer to hosts Judges Ho and Branch is encouraging, the school's purported solutions so far have fallen short and its public statements about events at the school have been highly misleading," Waggoner told The Fix via email.
"So, whether real change will happen at Yale is an open question, but one thing is certain: ADF and its allies will continue to help Yale and other law schools foster free, peaceful, and open debate," the attorney said.
She said that Yale "has failed for years" to create an environment of free expression "civil discourse" and "critical thinking." Waggoner said this is "necessary for a proper legal education."
Instead, Yale law school "has created a uniquely insular and intolerant monoculture in which competing ideas are unwelcome and sometimes violently shut down.''
MORE: Yale law professor warns of divisions between 'cosmopolitan elites' and working class
IMAGE: CSPAN
Like The College Fix on Facebook / Follow us on Twitter