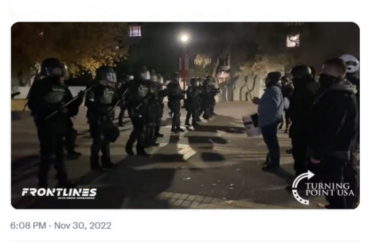 Second TPUSA event violently disrupted at University of New Mexico this semester
It took riot police to quell progressives' protest against a speech by Charlie Kirk, founder of the conservative Turning Point USA group, at the University of New Mexico on Wednesday night.
The protest got so heated campus police "enlisted the help of New Mexico State Police in riot gear to detain three people, including one UNM student," KOB Channel 4 reported.
"All were issued a criminal summons for interfering with officials or the general public. That is a petty misdemeanor that could mean a $500 fine and/or less than 6 months in jail," the news station reported.
Kirk told Tucker Carlson on Thursday's show that his appearance at the University of New Mexico had already been postponed due to concerns and protests over his visit, but that Wednesday's talk went smoothly despite the chaos outside the building.
"GET THE F*** OFF OUR CAMPUS"

University of New Mexico: Antifa and other far-left protesters, some dressed in black bloc, are outside of the Student Union building on Campus to protest @FrontlinesShow | @TPUSA pic.twitter.com/kG07vD7kCQ

— Kalen D'Almeida (@fromkalen) December 1, 2022
"A large group of university students mixed with black-clad ANTIFA members chanted, 'blood, blood, blood is in their hands,' while holding signs that read 'Shut Down White Supremacy,'" TPUSA's website reported. "Attendees of the event were trying to make their way into the building but struggled to walk through the large mass of angry protesters."
Riot police clash with protestors outside of UNM arresting one. @TPUSA | @charliekirk11 | @FrontlinesShow pic.twitter.com/pORQODSqUO

— Savanah Hernandez (@sav_says_) December 1, 2022
The Post Millennial reported protesters also screamed "F*ck Charlie Kirk!"
"They also appeared to yell 'f*ck Erica.' The Post Millennial has confirmed that this is a reference to TPUSA chapter president Erica Rodriguez. However, it is also the name of Charlie Kirk's wife."
This is the second time this semester chaos has erupted at the University of New Mexico over a conservative speaker.
Progressive protesters at the University of New Mexico shut down an appearance by Fox News pundit Tomi Lahren on September 15 resulting in the commentator and her father being sequestered until police arrived.
We kicked @TomiLahren out of @UNM campus and it took less than an hour of disruption. It's our duty to shut down white supremacist organizing every chance we get.

Fuck Tomi Lauren. Fuck White Supremacy. pic.twitter.com/20fd2NW4WA

— Johnny Juarez (@pueblobaddie) September 16, 2022
Lahren was also there at the behest of the TPUSA chapter on campus.
MORE: Check out The College Fix's Campus Cancel Culture Database
Like The College Fix on Facebook / Follow us on Twitter