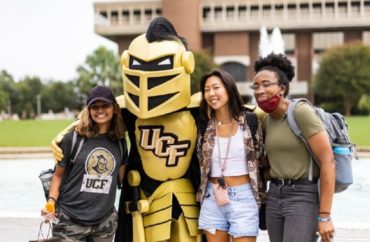 'If you stomp out Constitutionally protected free speech at your school, Speech First will see you in court,' group warns
The 70,000 students at the University of Central Florida will now have better protection of their free speech rights thanks to a settlement in a federal lawsuit.
UCF officials agreed to pay $35,000 in legal fees, rewrite a harassment policy and discontinued the bias response team in a settlement with Speech First.
"Thousands of students at UCF once again have their First Amendment Rights respected…and, in the months ahead, we expect many more colleges will follow suit as Speech First's lawsuit becomes legal precedent," the group told The College Fix after being asked how the settlement will affect student ability to speak on campus.
"Put simply: this case is a victory for our University of Central Florida student members," the legal nonprofit wrote in an email. The group said the settlement is also a "warning to every other public college and university in America: If you stomp out Constitutionally protected free speech at your school, Speech First will see you in court!"
The settlement "led to the elimination of UCF's Stasi-like bias response team and ensured that the university's policies actually consider the fundamental rights of their students," Cherise Trump, the group's executive director, wrote in a news release. "Our win in the Eleventh Circuit not only set precedent in all of Florida, Alabama, and Georgia, but it also guarantees that universities recognize that the law is not on their side when they want to violate their students' rights and shut down dissenting ideas."
MORE: USC breaks its promise to protect free speech, First Amendment group alleges
Speech First said in its announcement that the new discriminatory-harassment policy will "include the Davis Standard which states that speech can only be considered harassing conduct if it is 'so severe, pervasive, and objectively offensive as to deny a student an equal access to education.'"
The original policy defined discriminatory harassment as "verbal, physical, electronic or other conduct… that interferes with that individual's educational or employment opportunities" based on traits such as race, religion, and political affiliation.
It follows an April ruling by federal judges that found the bias team and the harassment policies likely violate the First Amendment because they chill free speech.
UCF's attorney previously told the 11th Circuit Court of Appeals that he was not sure if hypothetical phrases suggested by the judges would violate the harassment policy. These phrases included those associated with right-leaning views, such as "abortion is immoral," "unbridled open immigration is a danger to America on a variety of levels" and "the Palestinian movement is antisemitic."
The Fix contacted UCF spokesperson Chad Binette via email twice in the past two weeks but did not receive a response. The Fix asked how UCF planned to inform students of the policy changes.
"We remain fully committed to encouraging differing viewpoints, free speech and free expression – and we recommit to ensuring our policies are consistent with those ideals," Binette said in April in response to the ruling against the university's policies. "The university continues to work to ensure the related policies are reviewed and are consistent with our commitment."
MORE: Speech First launches contest to highlight speech trends on campus
IMAGE: University of Central Florida/Instagram
Like The College Fix on Facebook / Follow us on Twitter