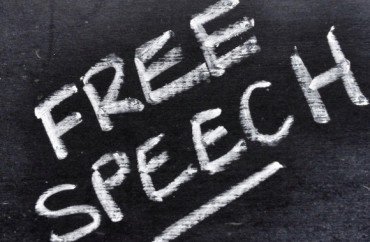 Students can win gift cards for chronicling anecdotes at their school
Speech First has rolled out a social media photo contest that asks students to snap a pic of some of the things they see on campus that scream anti-free speech — as well as things that uphold the First Amendment — and post it online.
College students who enter the contest have a chance to win an Amazon gift card for their on-the-spot reporting.
"At Speech First we have a lot of student members around the country and I think students are the early warning system that alert us about rights violations on campuses," Speech First President Nicole Neily told The College Fix in a telephone interview.
"Like one of those 'see something, say something' signs we all see, if there's something that needs to be investigated, let people know," she said. "There are tons of reporters but there are about 4,000 degree granting institutions in America and there's certainly not correspondence on all college campuses, so hopefully this contest is a way to hit a wider spectrum of schools, because there are problems at every school."
Speech First, a free speech advocacy group, detailed ideas of what might constitute a good entry.
On its website, it lists hypotheticals of "negative" free speech examples, such as ripped or vandalized flyers, an event being disrupted, a display or chalking that's been destroyed, a literal campus free speech zone, a pronoun guide, or a poster on what not to wear for Halloween.
Positive examples could include: "a crowd shot of a rally or protest with people holding signs," "a civil debate between opposing viewpoints," or "a successful tabling event sharing information," according to the group.
"I think for this contest students will be more likely to automatically gravitate towards posting pictures of negative examples on campus, like displays that have been destroyed or bulletin board signs ripped down," Neily said. "But I think there are certainly positive ways that speech can be expressed on campus."
"Something like people protesting can be a positive thing, as long as it doesn't turn into crazy violence, or a tabling event can be a positive example of people knowing their rights and exercising them."
To enter, students take a picture of their speech examples and post it on Instagram using both the hashtag #FreeSpeechMatters and tagging @Speech_First. The first round runs from Aug. 14 through Sept. 30, and winners are scheduled to be announced in October.
Jennifer Kabbany, editor of The College Fix, is slated to be the first round's "celebrity judge."
"I think the contest is a great idea," Kabbany said. "It engages students to identify examples of ways in which free speech is either helped or hindered on campus, and empowers students to be citizen journalists in their own backyard."
In addition to the top prize of $100, there will also be Amazon gift card prizes of $50 for second place as well as two third place prizes of $25.
Neily said the contest may help get the word out on the issue of campus free speech.
"If schools are called out for their bad behavior hopefully they'll reform some of their policies," she told The Fix. "We want students to learn and exercise their rights so that if you track the hashtag hopefully there'll be a lot of posts to show students that they're not alone, there are a lot of people who want to fight back and help. It's a way to call out your school if you need to without drawing a huge amount of attention to it, especially if you haven't done it before."
Neily said it's not just a conservative or Republican issue. Many have forgotten that the First Amendment right to free speech was key in helping disenfranchised minorities throughout history to have their voices heard, she said.
"Look at how essential it was for suffragists, abolitionists and civil rights activists," Neily said. "Martin Luther King wrote letters from a Birmingham jail because he violated a gag order, his speech was considered hateful and that was unwelcome. You know for people now to equate speech with violence, it blows my mind and hurts my soul that people think that because it is so essential."
"Persuasion and conversation are distinctive abilities," she added. "Speech is not violence. It's the absence of speech that is violence and if someone is saying something you dislike, persuade them or figure out what their best arguments are and then counter their speech with your best arguments. Don't try to shut people up or censor them, or otherwise discourage them from speaking."
Speech First is planning to have another contest round after September, with the next period deadline on Dec. 13, as well as two rounds in the spring. Each round will have a different judge.
Read more about the contest here.
MORE: Protester throws fake bleach on conservative speaker
MORE: College Republicans' pro-NRA flyers trashed
MORE: Video shows assault, vandalism against campus pro-lifers
IMAGE: Shutterstock
Like The College Fix on Facebook / Follow us on Twitter