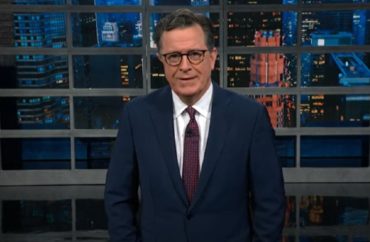 The former writer for Jimmy Fallon wrote that young adults are bored with the political news focus of many shows
A faculty member at Emerson College who teaches a course on comedy writing recently wrote that late-night TV can improve its popularity among 18-34-year-olds, but only if it becomes less political and "patronizing."
Jon Rineman, a former writer for two Jimmy Fallon shows, teaches a course called "Writing for Late Night." Even among his students specifically in that course, only 30 percent regularly watched late-night talk shows.
Based on his conversations with students, he learned that the shows have become too political and unrelatable. "As one student observed, there is so much rehashing of stories that have already made news, it feels like you're just watching more news," Rineman wrote on May 13 in The Conversation.
"A suggestion from multiple students was to focus more on specific, relatable issues in monologues," he wrote.
"What is the true entertainment value of six jokes about the debt ceiling?" he asked. "What if, instead of dreary news about gas prices, the economy or COVID-19, the focus were on topics like choosing to work from home, going back to movie theaters or picking a pricey streaming service?"
"A number of students noted that they sometimes find late-night shows patronizing, with the hosts making misguided assumptions about their generation," he wrote. Others wanted a more diverse group of performers and hosts.
MORE: Study paid people to watch CNN
The anti-Donald Trump shtick has also become old, according to Rineman. "Former President Donald Trump still makes for easy late-night fodder – and remains a reliable source of late-night virality," the essay stated. "But when the same exact Trump joke gets told by five hosts – which actually happened in March 2018 – the formula probably isn't sustainable."
Rineman said that one person who has succeeded by being relatable and funny is Fox News' Greg Gutfeld and it is "not just because he's cornered one demographic on Fox News, but because of systemic shortcomings on network TV."
"Funny or not, Gutfeld knows his audience and wants to win. He cares," Rineman wrote. He said his critics wrongly write him off as a "conservative blowhard."
"Interesting. The last time the pundits were so arrogantly dismissive, a network television host laughed all the way to the White House," Rineman wrote.
MORE: Liberal UNC students want to hear from conservative speakers
IMAGE: The Late Show with Stephen Colbert/YouTube
Like The College Fix on Facebook / Follow us on Twitter