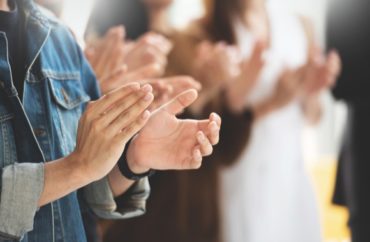 Self-censorship far higher among conservative students
University of North Carolina-Chapel Hill students across the political spectrum want to hear more conservative speakers on the left-dominated campus.
That's among the surprising findings from a survey by three UNC professors regarding undergraduate experiences with freedom of expression on the flagship campus.
With the topics of "free expression and constructive dialogue" hotly discussed across the country, the researchers "wanted to better understand these issues at our own institution" and "introduce new information into the national conversation," they wrote on the frequently asked questions page.
Other findings echo previous research on self-expression among students: that self-identified conservatives inhibit their expression more than self-identified liberals and moderates, to protect both their grades and their social status.
This is despite half of conservative students saying they believe their professors welcome the expression of different viewpoints in the classroom. Liberals also support "blocking a speaker they disagree with" at far higher rates than do conservatives and moderates.
The director of the Bipartisan Policy Center's Campus Free Expression Project praised the findings in a phone interview with The College Fix.
"We know [that] the 2020 election campaign is going to be really a difficult one," Jacqueline Merrill said. The study shows that "students from all across the spectrums want more chances to see [people] from across the spectrum possess their ideas in dialogue with one another and model that respectful debate for students as well."
She was pleased to see UNC researchers not only do such a survey but make it public. One finding on the effect of professors on students' views "undercuts" the idea that "faculty can make the classrooms places of indoctrination," Merrill said.
One group who hasn't responded to the survey, at least that The Fix could find: UNC administrators. None is mentioned in The Daily Tar Heel coverage of the report, for example.
Conservatives worry 'several' times or 'most weeks' about blowback
Jennifer Larson, Mark McNeily and Timothy Ryan started the survey last spring and published a report earlier this month.
The survey was open to all undergraduates at UNC, with nearly 1,100 completing the entirety of the survey. The researchers also conducted focus groups with three politically active clubs, two liberal and one conservative, with "approximately" 18 students participating.
The researchers, who come from the English, business and political science departments, have high hopes for the data they published. "Our findings will ideally generate discussion among administration, faculty, students, media, and interested members of the public," they wrote on the FAQ page.
The report has 12 "principal findings," with individual responses labeled under the categories of self-identified conservative, moderate or liberal to make the data easier to understand.
A plurality of students (48 percent) has not changed their political opinions since coming to UNC, while 31 percent became more liberal and 16 percent more conservative. The survey asked them to rank their current views on a seven-point ideological scale and recall their leanings "when you first came to UNC."
The second finding deals with reactions to free expression in the classroom. The researchers studied how polarized classes are when politics is discussed, how often professors reveal their biases and how strongly do they try to convince students to adopt their opinions, and how often open debate occurs during class.
They assessed "where and with what frequency political conversations happen," given that studies of professors find they lean left "in the vast majority of academic disciplines," at UNC and in general. "And to the extent political conversations arise at UNC, are they concentrated in certain academic areas, or are they more ubiquitous?"
MORE: Ohio U. refuses to apologize for unconstitutional censorship of students
Larson, McNeily and Ryan concluded that "instructors generally exercise restraint in revealing their political views" and "politically-focused class discussions are not ubiquitous or inescapable." This counters "the notion that UNC faculty pervasively attempt to socialize their students into particular viewpoints."
While a majority of both liberals (59 percent) and conservatives (51 percent) believe their instructors equally supported discussion from either ideological perspective, Peter Bonilla of the Foundation for Individual Rights in Education pointed to problems further in the data.
The concern over "how faculty would respond to their sharing their political opinions" is "notably higher in conservatives," he wrote in a blog post. Four times as many conservatives (50 percent) as liberals (12.5 percent) have "some degree of concern" that their views will cause their professors to "lower their opinion of them."
Self-censorship "cut[s] across ideologies" but is far worse among conservatives, Bonilla noted. About two in three conservatives say they've censored themselves at least once, compared to about one in four liberals.
Across their "entire time" on campus, 31 percent of conservatives say they have worried "several" times or "most weeks" that expressing their views will result in a lower grade and social ostracization in person and on social media. Only 1.5 percent of liberals agreed.
"A substantial percentage of respondents not only indicate that they self-censor, but that they do so multiple times in a single class," the researchers wrote.
MORE: UNC student beats up pro-life activist because it's 'triggering'
Moderates really, really want to hear more conservative speakers
Students across the ideological spectrum also reported commonly hearing "inappropriate comments" about conservatives, ranging from 57 percent of liberals to 82 percent of conservatives – the highest of any subgroup measured.
This suggests "UNC community members have not internalized norms of respect and civility toward conservatives to the same extent they have toward other groups," the researchers wrote.
Liberals are far more likely than conservatives to seek "social distance" from those with whom they disagree politically, with liberals least willing to date a member of an "outgroup" (25 percent) and most willing to be friends with them (63 percent).
Conservative responses are 16 to 30 percentage points higher for each social-distance question, with even a majority agreeing to date a member of an outgroup.
"While many students recognize intellectual diversity's value and are willing to include their ideological opposites in their personal and academic life, many others seek social distance," the report said.
The numbers are closer when asked whether political outgroups are important to UNC's campus community: 86 percent of conservatives and 72.5 percent of liberals agree.
MORE: Self-censorship and science denialism on campus
The most alarming result from the report may be ow many undergraduates support blocking speakers with whom they disagree: more than one in four.
At 19.2 percent, liberals are six times more likely than conservatives or moderates to support "creat[ing] an obstruction" so a speaker can't speak. Nearly as many (18.7 percent) would "form a picket line" to block people from getting into an event with such a speaker. FIRE's Bonilla noted there was far less divergence on nondisruptive responses, such as writing op-eds.
The researchers found the local survey on this subject mirrored national findings, with Americans supporting free expression and tolerance in the abstract but not in specific incidents.
Despite this heightened willingness to shut down visiting speakers and keep away their audience, more liberals believe there are "too few" opportunities to hear conservative speakers (37 percent) than to hear liberal speakers (21.5 percent).
Most moderates want to hear more conservative speakers (63 percent), and they closely agree with conservatives on whether they hear too few liberal perspectives (10.4 and 9.9 percent).
"We find broad support for increasing campus opportunities to engage in constructive dialogue—especially opportunities that increase opportunities to hear conservative perspectives," the researchers wrote in one of the report's more optimistic findings on freedom of expression.
Support free expression – unless 'someone hurts someone else's feelings'
Merrill of the Bipartisan Policy Center told The Fix she was most interested by the report's recommendations to improve support for free expression and constructive dialogue.
Giving "students, faculty, and staff more opportunities to hear external speakers presenting ideas from across the political, social and cultural spectrum" is crucial considering this is an election year, she said.
Merrill shared her experience from a panel discussion on freedom of expression at Duke University. While students generally support freedom of expression, they are also "worried about the but" and "what if someone hurts someone else's feelings, or says something offensive or more than offensive … something vile or hateful," she told The Fix:
That's the real challenge for colleges and university leaders, whether they're staff, faculty, or administrators or presidents … to help students navigate how is it that we can have a campus culture that is wide open to expression—even expression others are going to find difficult or offensive—while also building a campus culture that is welcoming and diverse.
Jenna Robinson, president of the North Carolina-based Martin Center for Academic Renewal, agreed that the report recommendations "are concrete steps that universities and faculty members can take without being overly prescriptive in ways to encourage viewpoint diversity."
She told The Fix in a phone call that the report is a "great addition to the literature we already have on the topic, and I'm really glad to see it come out of UNC."
MORE: College rejects free-speech principles to protect 'dignitary safety' of students
IMAGE: eggeegg/Shutterstock
Like The College Fix on Facebook / Follow us on Twitter