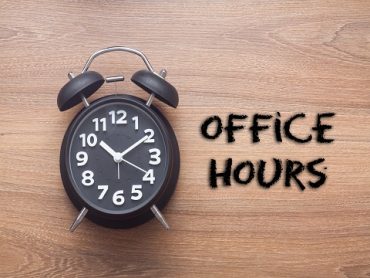 In a culture where anything can be considered "discriminatory," it seems Dartmouth sophomore Clara Chin has set out to up the ante one notch further.
Chin argues in a Dartmouth op-ed that somehow, some way, professors' office hours "disadvantage" and "harm" minorities.
"So, all peer mentors, trip leaders and other upperclassmen brimming with guidance will encourage freshmen to go to office hours," she writes, "but what they don't explain is how to actually go to them."
Before you mockingly say out loud to yourself  "by walking, maybe?" it's not quite that simple.
It's a matter of confidence, you see. Or something.
Peers who went to boarding schools with small class sizes or knew how to display a confidence that people wanted to hear their ideas seemed to already be equipped for office hours. I wished there was a pamphlet explaining what to do and what to say in office hours. Despite the many questions I often had about my classes and curiosity to explore further readings, I did not have the confidence to raise them or simply thought my ideas were not worth pursuing.

You will often hear the term "taking up space" in addressing a social barrier that minoritarian subjects, like women and people of color, might face. In this case, the minoritarian subject might fear taking up the time and mental energy of professors and question the validity of the ideas they might raise in conversations with faculty. This is an issue that I have discussed with other people of color and women.

Minoritarian subjects may feel undeserving of space because of an inherent lack of self-confidence, victim complex or innate helplessness. It is because institutions, such as academia, can send an implicit message that ideas out of the white, normative mainstream are unimportant by erasing these other narratives. One form of this is the lack of faculty of color at elite institutions like Dartmouth, which is a result of various factors. These factors include the disproportionate rate at which faculty of color leave Dartmouth over white faculty — perhaps due to a lack of comfort or hostile environment — the denial of tenure to faculty of color and the uneven hiring of white professors and faculty of color.
So, what is the solution to … "minoritizing" the institution of office hours? Hiring more minority faculty. But … not just "for the sake of having token faculty of color, but because they simply deserve to be here."
"By understanding the validity of their work," Chin explains, "we can send a message to students of color that their ideas, too, are worth pursuing."
I wonder how professors and others would adequately convey that they indeed grasp that "validity."
Even if Chin manages to figure that out, such will take time. In the interim (and in true SJW academic fashion), a possible "short term fix" could be making profs' office hours mandatory.
This could encourage students "who might otherwise not attend office hours to realize that their ideas are, in fact, valued."
Ah, yes. Nothing like instituting a requirement to boost someone's confidence: "You will feel valued and like it!!"
MORE: Veganism a 'white thing,' not sympathetic to 'victims of racism'
MORE: North Carolina State student: Garbage left on his car is 'racism'
Like The College Fix on Facebook / Follow us on Twitter
IMAGE: Shutterstock