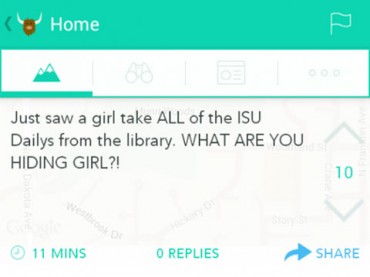 Apparently unfamiliar with Justice Louis Brandeis's famous quote that the best response to speech you hate is "more speech, not enforced silence," sorority members admitted they threw away more than 800 copies of a campus newspaper over a story about a hazing allegation.
It's possible the same fear of embarrassment drove unknown students to toss 1,900 copies of another student paper that featured a story about suspended Greek organizations.
The Student Press Law Center reports that five Rho Theta members at Elmhurst College fessed up after "sorority members" were identified for trashing more than half the print run:
Phi Mu's national organization and their Elmhurst Rho Theta chapter will reimburse The Leader for the cost of the theft, estimated at more than $1,000, and will pay to reprint the issue, according to a news release from the national organization. The newspaper's adviser, Ron Wiginton, said they are reprinting the paper on Friday and will redistribute it Saturday.

Zachary Bishop, The Leader's editor-in-chief, said he hasn't heard from the sorority and wants them to apologize.
The entire sorority is being punished by the school, a spokeswoman said:
She said educational assignments on the First Amendment, such as writing an essay or bringing in a speaker, could be assigned to chapter members in addition to paying restitution.
If only colleges were so diligent in respecting students' First Amendment rights in other contexts!
According to another Student Press Law Center report, it's not definitive what drove the trashing of 1,900 papers at Iowa State University for a combined loss of $4,100.
What's novel is the trashing was first reported on Yik Yak, the controversial anonymous messaging app:
[Editor-in-chief Stephen] Koenigsfeld was first made aware of the issue after an editor sent him a screenshot of a social media post that morning, which stated that a woman took a stack of newspapers from the library and threw them in the trash. …
Another editor later informed Koenigsfeld that he watched people throwing out several stacks in the student union.
The most convincing explanation at this point, the paper believes, is a story about three Greek chapters being suspended following an incident that involved "medical and police response."
Someone should inform Greek organizations there's this thing called blogging if they want to tell their own side…
Read the Elmurst and Iowa State reports.
Like The College Fix on Facebook / Follow us on Twitter
IMAGE: Yik Yak screenshot