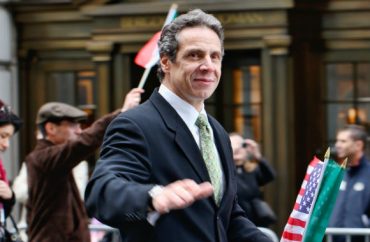 'He and his family are apparently faced with a stark choice: obey and starve, or disobey and eat'
Courts around the country are starting to push back against some of the more arbitrary, capricious and cartoonish COVID-19 executive orders issued by governors and mayors. (If you want to be stirred by soaring rhetoric, read Clay County Judge Michael McHaney's Friday ruling against Illinois Gov. J.B. Pritzker's stay-at-home order, even though it's very narrow.)
But Cornell Law Prof. Joseph Margulies wants to make a different kind of argument against such orders: a moral one.
Legal nerds may recognize him as one of the lawyers who represented accused terrorist Abu Zubaydah, whose videotaped torture by the CIA nearly derailed the confirmation hearings for Gina Haspel to become CIA director in 2018.
In a commentary last week for legal resource provider Justia, Margulies says the government has no moral grounds to deny people from supporting themselves if it's not willing to support them.
The law professor is far from a libertarian on the issue, freely admitting he believes the lockdown orders "are a good faith effort by the state to limit the spread of a dangerous disease" and that "they have saved thousands of lives." (In the terminology of former New York Times reporter Alex Berenson, the law professor is a member of Team Lockdown.)
Yet Margulies had previously argued that protests against lockdown policies are morally justified when the state "reduce[s] people to poverty," and he applies the same reasoning to the workers whose civil disobedience has drawn the most attention: barbers and hairstylists.
New York barber Joseph LaLima is facing a possible criminal prosecution for continuing to cut hair in his own home, at the back of his shuttered barbershop, in violation of Gov. Andrew Cuomo's executive order.
When the Democrat (above) who ordered nursing homes to take COVID-19 patients publicly criticized the 76-year-old Vietnam vet (below) without naming him, The New York Times reported that the barber retorted:
I am aggravated to the nines. Is Cuomo going to pay me? Is he going to make up the difference? Is he going to pay my taxes? Is he going to pay the heat and electric? Is he going to feed my family?
MORE: Law students devise legal challenge to governor's stay-at-home order
LaLima justified his continued business on a couple other grounds: he gave free haircuts to first responders and he believed the order only applied to his physical shop, not his home. Ulster County, where he lives and works, ratted him out after he tested positive for the novel coronavirus. (He's fine, and Ulster County conspicuously hides the age distribution of deaths from its COVID-19 dashboard.)
Team Lockdown member Margulies said the defiant barber's retort to Cuomo "framed the issue perfectly," even as the law professor scolded him for putting "an untold number of other people at risk":
If the answer to these questions is no [Cuomo won't pay him for doing nothing], and if Mr. LaLima is not exaggerating his plight, then what was he supposed to do? He and his family are apparently faced with a stark choice: obey and starve, or disobey and eat. The state simply has no authority to impose this choice on its citizenry, and cannot take action against them when they predictably choose the latter option. …

I do not see how anyone in his position can be expected to stand idly by—literally—while his children go hungry and his family loses their home. And do not underestimate the risk that this might happen.
Margulies points out an inconvenient truth for the American aristocracy who cheers lockdown orders: Tens of millions of Americans live in households that are poor or on the brink of poverty, fewer than half say they can pay an unexpected $400 expense, and most claim they live "paycheck to paycheck."
"Meanwhile, in most places dealing with COVID, the rent is still due, the utilities still have to be paid, and groceries are not suddenly free," which is why the lines for food banks are stretching miles, the law professor writes.
He mocks Cuomo's senior advisor Richard Azzopardi for his ignorance of the plight of people like LaLima. "There is no excuse to be reckless in a pandemic," according to Azzopardi, yet Cuomo's sycophant "still has a paycheck," Margulies notes:
As I reason this through, I think Mr. LaLima and others in his position have the moral right to operate their businesses—openly and without fear of retribution from the state. Not because their work is essential to the public, but because it is essential to them.
This reminds me of a sign I saw at a protest for Lindsey Graham, the Oregon hairstylist fined $14,000 for opening her salon against Gov. Kate Brown's orders: "Every job that puts food on the table is ESSENTIAL."
MORE: Professor refuses to back down as he fights to #ReopenNC
MORE: Law profs urge judges to grill government over COVID-19 infringements
IMAGE: saebaryo/Shutterstock
Like The College Fix on Facebook / Follow us on Twitter