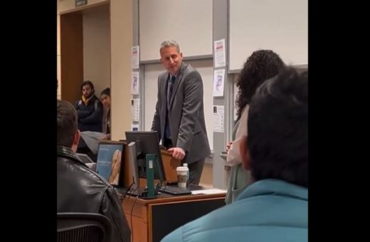 'In the background' of the proposal was the March disruption of a judge's speech at Stanford Law School
Law schools must protect free speech and forbid disruptions of speakers, according to a proposed American Bar Association accreditation standard.
The committee that drafted the memo advocating for the new rule said it came after the March shouting down of Judge Kyle Duncan (pictured) at Stanford Law School and calls to investigate the school.
However, those events "did not influence" the proposal, according to the memo.
The committee's proposed standard would protect the right of students, faculty and staff to express ideas, including those "that may be controversial or unpopular," and forbid "disruptive conduct" limiting free expression.
However, it also states schools may restrict speech "that violates the law, that falsely defames a specific individual, that constitutes a genuine threat or harassment, or that unjustifiably invades substantial privacy or confidentiality interests."
The standard also allows policies reflecting schools' missions, including religious ones, as long as the rules follow the law and the other regulations.
"Becoming an effective advocate or counselor requires learning how to conduct candid and civil discourse in respectful disagreement with others while advancing reasoned and evidence-based arguments," the memo stated.
The language echoes concerns federal Judge James Ho, who said last September he would no longer hire law school clerks due to concerns about academic freedom violations on campus, The College Fix reported at the time.
"Yale not only tolerates the cancellation of views — it actively practices it," U.S. Court of Appeals for the Fifth Circuit Judge Ho said that month at Federalist Society event, according to National Review.
Yale Law students had disrupted a panel on civil liberties in March in order to stop Alliance Defending Freedom attorney Kristen Waggoner from speaking, The Fix reported.
According to the proposed ABA guidelines, the current law school accreditation's free expression rules are not sufficient to protect freedom of expression because they don't include protections for students or treat the topic in depth.
ABA Journal, a publication of the American Bar Association, wrote in a Wednesday article on the proposal that lawyers interviewed thought there was "generally not a protected right to disrupt a speaker."
"It's important for schools to clearly state that the disruption of speakers is not tolerated, and if students do that, they will face academic discipline," Erwin Chemerinsky, dean of the University of California at Berkeley School of Law and an ABA Journal contributor, told the publication.
Paul Lannon, a partner at major law firm Holland & Knight and co-chair of the firm's education law team, told ABA Journal that new guidelines are "long overdue."
"The current standard doesn't provide any substance," Lannon said.
MORE: Stanford 'free speech training' was a campus joke
IMAGE: Stanford Law School
Like The College Fix on Facebook / Follow us on Twitter