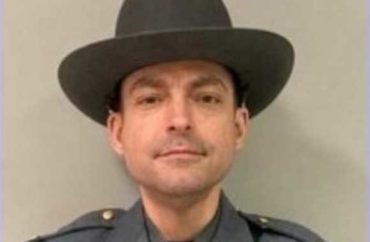 The officer claims the university violated his constitutional rights
SUNY Plattsburgh police officer Darren Barcomb filed a lawsuit claiming his constitutional rights were violated after an official at a public university disciplined him for dating an on-campus student. The university policy governing student-staff relationships is "vague" and does not apply to his conduct, the suit says.
He filed the suit April 15 against Michelle Trombley, the university's human resources assistant director, claiming that she had violated his First and Fourteenth Amendment rights.
After the college discovered that Barcomb (pictured) was involved in a relationship with an on-campus student, Trombley wrote a letter stating that he had violated the college's Consensual Relationship Policy, which prohibited him from contacting university personnel or students and placed him on alternative duty assignment, effectively banning him from campus, the lawsuit claims, according to the Press-Republican.
According to the lawsuit, Barcomb connected with an undergraduate student at the university on Tinder on March 10, 2022. He claims he was unaware she was a student at the time, and said they began a "consensual romantic relationship."
On March 30, Barcomb took the student back to her dorm room after a date. She was later questioned by four UP police officers about her relationship to Barcomb.
His lawsuit claims that he had been treated unfairly in part because many other police officers have had consensual relationships with students without consequences, in at least one case with the permission of the police chief and Tremblay.
SUNY Plattsburgh's consensual relationship policy for undergraduate students states:
"Because inherent power differentials exist, professional staff or other college personnel are prohibited from entering romantic relationships with students for whom such staff or personnel have current supervisory, instructional, or other professional responsibility."
The college's consensual relationship policy is "vague," according to Bob Keach, Barcomb's attorney.
"If the government is going to tell you not to do something, they have to tell you that in very direct terms. When it doesn't do that, it violates the Constitution," Keach stated to the Press-Republican.
Darren Barcomb has served the university as a police officer for 23 years.
The SUNY Police Chiefs Association honored him with SUNY's 2021 Professional Service Award, a distinction which "honor[s] lieutenants, officers and staff who play a key role in life-saving events and give exemplary professional service," the university website states.
Barcomb has a history of legal battles with SUNY
This is not the first lawsuit Barcomb has filed against personnel of the college. In 2007, he sued multiple SUNY Plattsburgh staff, including Arlene Sabo, then-campus police chief, alleging claims of "false arrest, malicious prosecution, unreasonable seizure, unlawful retaliation, due process violations, and failure to supervise."
The lawsuit also asserted that "the harassment, suspensions, arrests and prosecution of Barcomb was in direct response to his efforts to organize, lead and sustain the union that represents his fellow police officers at SUNY Plattsburgh."
Barcomb had said he believed Sabo was trying to force him to leave the department.
The College Fix reached out to Trombley and SUNY Plattsburgh spokesperson Heather Haskins with questions, but neither has responded.
The Fix asked Trombley and Haskins for comment on which university policies Barcomb allegedly violated, as well as for comments on Barcomb's claim that other officers have dated students in the past and on Keach's claim that the relationship policy is "vague."
MORE: Numerous universities allow sexual relationships between students and staff
IMAGE: State University of New York Plattsburgh
Like The College Fix on Facebook / Follow us on Twitter