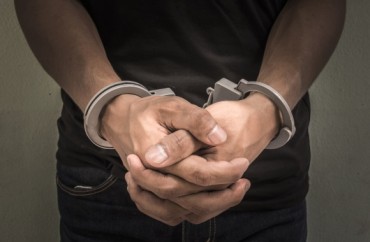 Kellogg Community College dropped charges against students that were passing out copies of the Constitution after they lawyered up, "but the chilling effect of this arrest lingers to this day and will linger until the policies underlying it are enjoined," said a filing by a legal group defending the students.
The Alliance Defending Freedom asked a federal judge to suspend the two policies – only one of them written – used by Michigan's KCC to halt the Young Americans for Liberty members and their "associates" from distributing literature on a campus sidewalk.
In an encounter caught on video, an administrator told the group it was violating the solicitation policy by asking passers-by if they "like freedom and liberty" – a question that students from "rural farm areas" might feel compelled to answer.
One of the students, Michelle Gregoire, even went to jail, along with two YAL officials.
MORE: Student jailed for passing out Constitutions to 'rural farm' students
In its Wednesday filing, the alliance asked for a preliminary injunction against the policies as the case moves forward:
These policies require students to get a permit ten days before engaging in any constitutionally protected expression on campus, grant officials unbridled discretion to approve or reject permit requests, prohibit certain forms of speech even when students have a permit, and empower officials to shut down any expression that they deem to violate (unconstitutional) college policies. In the process, these policies eliminate spontaneous speech, drastically curtail leafletting or one-on-one discussions, and broadly limit all speech activities to a single location on campus.
Administrators can reject or modify even solicitation requests that satisfy all the school's written requirements for approval, according to the suit, including those that do not "support the mission" of the public institution. (This would make it open season on any student group advocating for less public funding of KCC.)
Students also have to remain silent until an onlooker walks up to their table and initiates conversation: "Punishments range from written warnings to expulsion, though arrests and jail time are also now obviously real possibilities."
MORE: Show me an ID or you can't talk about free speech
The alliance reminded the judge that "federal courts routinely strike down policies like" KCC's that are "viewpoint-based, making them illegal in any forum":
But they also represent content-based prior restraints on student speech that are not narrowly tailored to a significant government interest, do not leave open ample alternative channels of communication, and are substantially overbroad.
Alliance lawyer Casey Mattox said in a news releaese:
Today's college students will be tomorrow's legislators, judges, commissioners, and voters. It makes no sense for a tax-funded college to forbid students from advocating for our constitutionally protected freedoms on their own campus.
Read the filing and release.
MORE: Arkansas Tech says speech code overrules Constitution
Like The College Fix on Facebook / Follow us on Twitter
IMAGE: Shutterstock