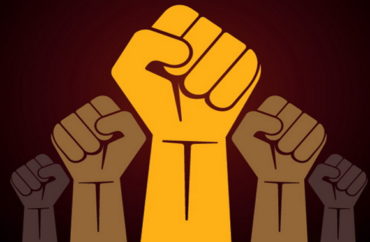 UPDATED
Progressive student groups at Arizona State University are planning a rally this coming week to demand the expulsion of Kyle Rittenhouse from campus.
This actually might be a bit tough to accomplish given that Rittenhouse — recently acquitted of all charges in the shootings of three people (two of whom were killed) in Kenosha, Wisconsin last summer — is enrolled online.
(He did recently expressed interest in in-person attendance at ASU at some point.)
Organizations including MEChA (Movimiento Estudiantil Chicanx de Aztlán), Students for Socialism, Students for Justice in Palestine and the Multicultural Solidarity Coalition intend to gather on December 1 to "get murderer Kyle Rittenhouse off [the] campus."
"Even with a not-guilty verdict from a flawed 'justice' system — Kyle Rittenhouse is still guilty to his victims and the families of those victims," the groups' Instagram statement reads. "Join us to demand from ASU that these demands be met to protect students from a violent, blood-thirsty murderer."
Those demands include that ASU withdraw Rittenhouse's enrollment, put out a statement condemning "racist murderer" Rittenhouse and white supremacy in general, and redirect funding from campus police to the ASU Multicultural Center.
ALERT: Check out our new Campus Cancel Culture Database!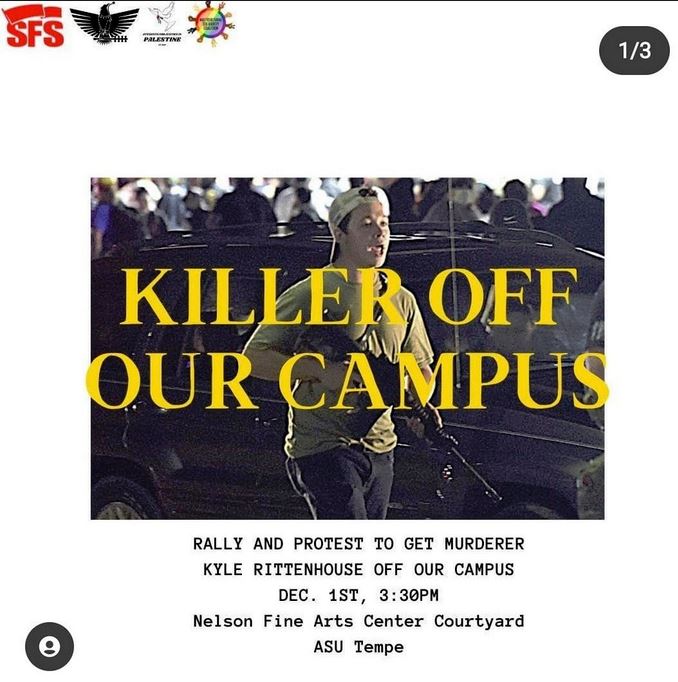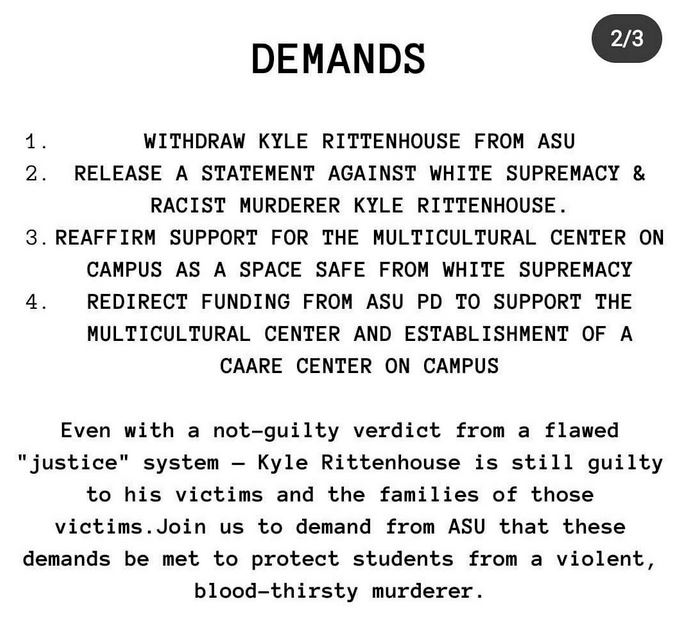 Students for Socialism noted on Twitter there will be a "sign making event" November 29 to help prepare for the Wednesday rally.
A Change.org petition was started by ASU student Taskina Bhuiya who says Rittenhouse's acquittal was "absolutely ridiculous" and that he "needs to be held accountable for the crimes he has committed."
"We, the students of Arizona State University refuse to welcome a murderer onto our campus," the petition reads. "ASU should be a safe and inclusive place for all students, which will be disrupted if Kyle Rittenhouse is allowed to attend this school."
The petition, which after seven days has about three-quarters of the requested 1,000 signatures, concludes thusly:

For its part, MEChA also had immediately supported the black female students who berated a pair of white (male) peers in the ASU Multicultural Center in late September. It referred to ASU charging the women with student code of conduct violations as "settler white supremacists [sic] logic of colorblindness doing it's [sic] work by obscuring the violence that the stickers the two full grown men were in possession of and casting that violence as some how [sic] equal to colonized people's self defense against that violence!" (The women's "punishment": A warning and a written "reflection.")
An ASU conservative student organization, College Republicans United, has been fundraising for Rittenhouse since last year. It tweeted a week ago that "half of all funds collected for the rest of the year will be donated to the Kyle Rittenhouse lawsuit against the media."
UPDATE: Campus Reform reports that ASU told them Rittenhouse is no longer enrolled for virtual instruction. Nevertheless, the student activist groups still plan to go through with their protest/rally on December 1. They merely changed the wording of their first demand (see above) to "Deny Kyle Rittenhouse further admission to ASU."
MORE: Wisconsin college students protest Kyle Rittenhouse verdict
IMAGES: VectorArt/Shutterstock.com; Instagram, Change.org screencaps
Like The College Fix on Facebook / Follow us on Twitter