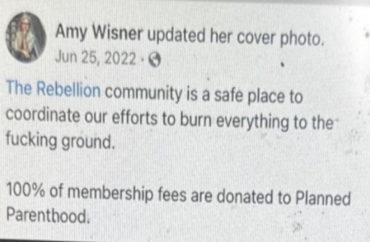 'The website itself served expressive purposes that had nothing to do with her course, so forcing her students to fund her pet political project was still unconstitutional,' attorney says
Michigan State University students are continuing their legal battle over the fees they were forced to pay to buy a subscription from their liberal professor's website – money which she then reportedly used to support abortion giant Planned Parenthood.
Amy Wisner has claimed that the fees she made students pay went to operate the website, Rebellion Community, and thus did not force course enrollees to support her viewpoint. She reportedly continues to bill her former students despite no longer teaching. MSU said it would reimburse students for the original $99 once the story broke.
The College Fix emailed Wisner on Tuesday via her personal email to ask her about the allegations she is still billing students as well as the latest filing from ADF. "Sending you love and celebrating your humanity," an automated response said. "Have a beautiful day and remember that you have the ability to embody love in every moment."
Alliance Defending Freedom, which is representing the students, disputes Wisner's claim about the operating expenses.
"Defendant Wisner's claim that all of the money went to operational expenses just isn't credible," attorney Logan Spena told The Fix recently via an emailed statement.
"She charged the general public $99 for a subscription and (on the same webpage) explained that she was donating proceeds from those memberships to 'organizations fighting systemic oppression,'" Spena said.
"In other words, she admits that $99 yearly subscriptions gave her more than she needed to run the site and that there were leftovers for her to donate," Spena said. "Then she made her students – who are only in the course for one semester – also pay the same yearlong subscription at the same price she charged the general public: $99."
"And, as the brief explains, regardless of how much she spent on 'operational expenses' of the website, the website itself served expressive purposes that had nothing to do with her course, so forcing her students to fund her pet political project was still unconstitutional," Spena said.
ADF filed a brief on Sep. 25 responding to Wisner's motion to dismiss. The attorneys said Wisner used the website to advance her "personal expressive goal" and not "legitimate pedagogical interests."
The professor said she only requested students pay for a subscription, but her syllabus tells a different story, according to the legal filing. "As the syllabus states and Plaintiffs alleged, this was a 'course requirement,'" ADF wrote.
Right now The College Fix has a back-to-school campaign to help us continue to support our amazing student journalists. A donation today will be matched thanks to a generous limited-time matching gift opportunity from a friend of The Fix! CLICK HERE for more details — and thank you!
The students also alleged "Wisner's subterfuge prevented them from
detecting the nature of her unconstitutional course requirement before they paid
the fee.
The syllabus claimed that all the membership fees were used to pay for class-related functions," the filing stated.
"In fact, the syllabus goes further and falsely claims: 'Your professor does not receive any financial compensation from your membership fees as
that would be a conflict of interest,'" which ADF said Wisner admits was a false statement.
"Defendant Wisner has the right to speak," ADF concluded in its filing. "But she has no
right to force students to speak, subsidize her outside speech, or force them to
associate with groups with which they do not wish to associate."
MORE: U. Minnesota socialists to protest coming Amy Barrett appearance
IMAGE: Amy Wisner/Facebook
Like The College Fix on Facebook / Follow us on Twitter