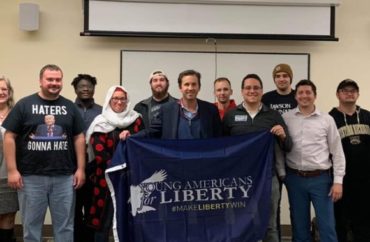 University said it will look into incident
Western Michigan University officials said they are looking into allegations of free speech violations against a student libertarian group after school administrators allegedly had an "intimidating interaction" with the activists.
"We received confirmation from WMU that it is investigating the matter, but as of today we have not received a response," national Young Americans for Liberty's J.P. Kirby told The College Fix. "We expect the school will take all appropriate measures to ensure incidents like this never happen again."
He confirmed December 9 that no further information has been received from Western Michigan. Kirby is the director of students rights for the national libertarian organization.
The national YAL general counsel informed WMU's counsel on November 30 of free speech violations on campus after campus staff shut down a tabling event in an open area on campus for not having a permit.
The letter alleged that event services directors Smith Moore and Alex Gray "confronted the YAL students."
It continued:
According to our students, Mr. Moore was openly hostile, and claimed they were "going against tabling rules" and that other WMU students could not be "solicited." Mr. Moore allegedly went on to ask the students if they wanted to be shut down and said to "next time go through the university", "go through it or we'll shut you down." Mr. Gray, while cordial and professional with the students, asked if they had acquired a permit and stated that there was an outdoor space form required for tabling on campus. Despite this intimidating interaction, the students ultimately continued tabling for approximately one hour after this incident.
Neither Hahn, the campus counsel and recipient of the letter, nor Tony Proudfoot, the school's communications vice president, responded to three requests for comment in the past week from The Fix.
The Fix asked what had been done to investigate the matter.
Kirby, the YAL official, said the incident has not slowed down the WMU chapter's advocacy.
MORE: 63% of U.S. college students felt 'intimidated' against sharing opinions
"Fortunately YAL's influence has not diminished on campus from this interaction. Our students are trained to know that their club's reach depends on their own, personal engagement with their fellow students and the efficiency with which they manage their clubs," Kirby told The Fix.
"This attitude keeps YAL students from playing the victim and instead continue to take the action needed to reach their classmates and grow their movement on campus," he said. "Our students know that they have the right to engage their fellow students with conversations in the open, public space on campus."
Kirby said that this is the "first time" legal counsel has gotten involved, but other WMU YAL leaders have had trouble in the past. "In 2018-2019, our YAL chapter protested the unconstitutional 'Free Speech Zones' WMU was using to sequester student activists to small areas of campus," Kirby said.
"In February of 2019 we received confirmation that the Free Speech Zones had been removed. This past victory is one of the reasons we viewed it as so important to let Western Michigan know that we saw what their administrators did and we will not stand by while they do it," Kirby said.
"Although we work hard to change written policies across the country, real freedom comes when schools are worried enough about the consequences of chilling student speech and leave the students to interact with each other as they see fit," he said.
MORE: University of Idaho must pay $90,000 to settle free speech lawsuit
IMAGE: Western Michigan University YAL/Facebook
Like The College Fix on Facebook / Follow us on Twitter