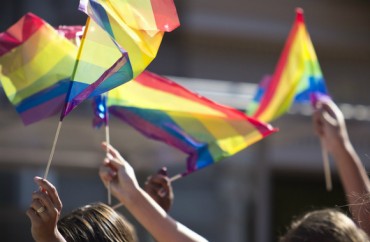 Some activists against campus sexual assault highlight their contention that the problem is worse among sexual minorities – students who identify as LGBT.
They just got backing from a new study funded by the federal Bureau of Justice Statistics, which finds a "significantly higher" prevalence of sexual assault directed toward "nonheterosexual" females as opposed to straight female students.
Researchers ran a pilot test of nine colleges "to develop a campus climate survey that collects school-level data on sexual victimization of undergraduate students," according to the study. They got "acceptable levels of precision" in estimated assault for eight of them (page 78):
At each of these eight schools, the observed prevalence of sexual assault victimization was higher for nonheterosexual students than heterosexual students in the female sample. A similar pattern is evident in the schools for which sufficiently precise estimates were created for sexual battery and rape (see Appendix E-10 through 18); with one exception (sexual battery rates in School 5), rates of sexual battery and rape were significantly higher for nonheterosexual students than heterosexual students. Although it was not possible to generate school-specific estimates of the prevalence of sexual assault for transgendered persons, Appendix E-9 [page E-7] shows cross-school average estimates for sexual assault, rape, and sexual battery victimization for those who self-identified as transgender/other and female.
As a commenter on our Twitter feed pointed out, only 1 in 20 women reported that the "offender" was not male (and remember, these are anonymous allegations), so this doesn't automatically mean that lesbian sexual encounters are more prone to abuse than heterosexual encounters.
What it does suggest is that the controlling narrative of college men taking advantage of women when they are both sexually excited – but alcohol clouds their judgment and consent is murky – is far too simplistic.
Like The College Fix on Facebook / Follow us on Twitter
IMAGE: thisisbossi/Flickr