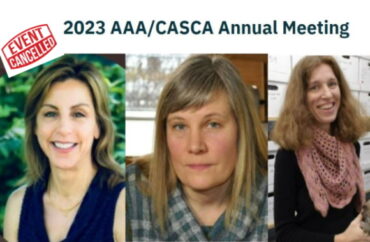 Two professional anthropology associations had canceled the panel, accusing scholars of 'transphobia' 
An all-women panel on biological sex as a basic research category, canceled by the anthropology academic establishment, drew hundreds of viewers when an educational freedom association recently hosted it online.
"Let's Talk About Sex Baby: Why Biological Sex Remains a Necessary Analytic Category in Human Anthropology," which Heterodox Academy "uncanceled" and broadcast as a live webinar and later on YouTube, featured female scholars affirming the importance of biological reality for scientific research, human understanding, and helping people in need.
Heterodox Academy Director of Communications and Marketing Nicole Barbaro told The College Fix via email that the Nov. 8 event drew "over 400 people watching live…with the livestream recording on our YouTube already over 1.5k views as of [last Friday]."
The panelists were anthropologists Elizabeth Weiss of San Jose State University, Kathleen Richardson at DeMontfort University in the England, Kathleen Lowrey at the University of Alberta, Silvia Carrasco of the Autonomous University of Barcelona, and Michèle Sirois at PDF Québec, a women's rights nonprofit.
Heterodox Academy President John Tomasi introduced the group during the webinar, and evolutionary biologist Carole Hooven asked and fielded questions.
The American Anthropological Association and the Canadian Anthropology Society originally planned to host the panel in-person in Toronto at their annual conference before canceling it, as previously reported by The Fix.
The associations cited "transphobia" in their decision.
During the online webinar, Weiss, who studies human bones, said that "one of the first and most essential features to look at when considering skeletal remains is the biological sex of the deceased individual," and that biological sex is "binary."
What's more, if she and other researchers "abandon[ed] their sex identification tools to appease the biological agenda of erasing sex in biological research, we would be doing harm to the most vulnerable individuals," she said.
In an email to The Fix, Weiss spoke further on "the trend in the forensic anthropology literature that puts forth the argument that sex is nonbinary."
"If we take this stance, then we may be tempted to abandon research to improve identification of sex — whether the remains belonged to a male or female," Weiss said. "This, in turn, will lead to fewer identifications of deceased individuals and, thus, result in an increase in criminals who may get away with murder and a decrease in providing closure to victims' families."
In her remarks, Professor Kathleen Richardson focused on analyzing sex in "how tech bought into gender ideology and sold out women."
"Sex is a meaningful and necessary analytic category for making sense of robots in AI and technology in general," Richardson said.
That includes pornography, where most figures depicted are women and most users are men, as are the majority of those producing and funding it, according to Richardson.
"We seem to be moving away from the facts of biology to the idea of gender ideology," Richardson said. "The real is neglected while fiction is amplified."
Panelist Silvia Carrasco, who researches educational inequality, presented on "the intriguing disappearance of sex in the teaching of sex-based violence in schools" and the "denial of sex-based violence among boys."
Sex is necessary to analyze harm to women and girls at the hands of men and prevent it from happening, she said.
Panel would cause 'harm' and threaten 'the safety and dignity of our members,' anthropology associations said
For planning such remarks, their own disciplines' professional societies accused them of "transphobia" and hurting the vulnerable.
In its Sept. 28 statement, titled "No Place for Transphobia in Anthropology: Session pulled from Annual Meeting program," the two anthropology associations stated the topic would cause too much "harm."
"This decision was based on extensive consultation and was reached in the spirit of respect for our values, the safety and dignity of our members, and the scientific integrity of the program," according to the statement.
Some of the featured scholars have faced cancelation before.
Hooven, formerly a lecturer at Harvard, joined "Fox & Friends" in July 2021 to condemn medical professors' trend toward refusing to use "male" and "female." She set off a wave of controversy and was accused of being transphobic, The Fix reported at the time.
Hooven refused to apologize.
Weiss was disowned by her San Jose State University department and denied materials access for supporting the study of Native American remains against the objections of several tribes, The Fix reported.
After an 18-month legal battle, she agreed to retire from her job with full retirement benefits and emeritus status to settle the suit.
She accepted a job with Heterodox Academy as an inaugural faculty fellow and also joined the National Association of Scholars, a conservative academic organization.
MORE: Oxford scholars oppose canceling feminist who supports biological sex
IMAGES: Heterodox Academy
Like The College Fix on Facebook / Follow us on Twitter