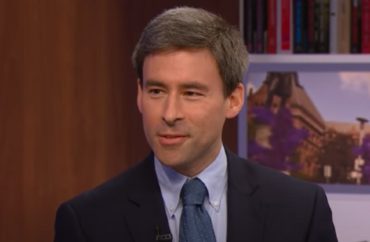 Identification as LGBT has risen faster than behavior
The increase in young adults identifying as homosexual or transgender is likely due to social pressures and political ideology, according to a University of London political scientist.
Many people who identify as LGBT also struggle with mental illness the social science researcher told The College Fix.
"There are two theories, that greater tolerance is allowing more to come out of the closet, or Bill Maher's assertion that LGBT is trendy among some youth," Eric Kaufmann told The Fix via email. "I think the second theory better fits the data and explains more of why the rise occurred."
Kaufmann (pictured) said that while young adults identify as LGBT at higher rates than older generations, there has not been a corresponding increase in sexual behavior tied to those identities.
"LGBT behavior is up 4 points among young people since 2008, but LGBT identity is up 11 points," he said in his email. "Among women, only around a fifth of bisexuals in 2008-10 said they only slept with men in the past 5 years. That share has risen steadily, so that it is now the case that the majority of female bisexuals only sleep with men."
"If this was about people feeling able to come out, then we should have seen these two trends rise together," he said. "What we find instead is that identity is rising much faster than behavior, indicating that people with occasional rather than sustained feelings of attraction to the opposite sex are increasingly identifying as LGBT."
Kaufmann provided more data and analysis in a May 30 report from the Center for the Study of Partisanship and Ideology, where he is a researcher.
"Gen Z's LGBT share rose from 9.4% in 2016 to 12.1% in 2018 to 19.8% in 2021," the report stated. Millennials' LGBT share rose from 7.8 percent to 10.5 percent.
"Among Gen X the numbers were more modest: 5.1% in 2012, 4.4% in 2018, and 8.8% in 2021."
"Very liberal ideology is associated with identifying as LGBT among those with heterosexual behavior, especially women," his report further stated. "It seems that an underlying psychological disposition is inclining people with heterosexual behavior to identify both as LGBT and very liberal."
The CSPI report also concluded that "[v]ery liberal ideology and LGBT identification are associated with anxiety and depression in young people."
"Very liberal young Americans are twice as likely as others to experience these problems. 27% of young Americans with anxiety or depression were LGBT in 2021," the report stated. "This relationship appears to have strengthened since 2010."
Kaufmann told The Fix why LGBT identification and liberal ideology are linked.
"I think this is because very liberal people value difference and novelty over conformity, and are thus drawn to identifying as divergent (or weird) in some way, which can include sexuality," he said.
There could also be a link between liberal ideology among academia that seeks to take down "power structures."
"For those in elite settings like top universities, there is also a political motivation linked to resisting oppressors or dominant power structures," Kaufmann said. "There is also a psychological basis in that people who are higher in openness and neuroticism, and lower in conscientiousness tend to be liberal, and I believe these orientations correlate with LGBT identification."
Expects a peak in LGBT identification
"There has been no peak in LGBT identification yet, but I expect it imminently because LGBT growth has mainly occurred within the very liberal part of the population, and that is a limited pool," he told The Fix when asked for his predictions for the coming year. "Will be very interesting to see what the 2022 data show."
He also suggested that politically, LGBT rates are not likely to have much of an effect, because that group already strongly votes left.
"I think one policy takeaway is to be less worried: this rise is identificational more than behavioral, and is siloed among political liberals," he told The Fix. "It is thus unlikely to transform family formation or politics – the partisan split among young people is basically unaffected."
But he is concerned about the mental health ramifications.
He said:
However, on mental health, there are signs that being very liberal and, perhaps, identifying as LGBT may incline people to 'identify' as sad, anxious or unhappy. This may mean the mental health crisis is not as acute as we believe from topline numbers (like 75% of LGBT teens being depressed), but it may also mean that some people are convincing themselves they are mentally ill, creating a feedback between perception and reality. So mental health professionals should start to take ideology and culture seriously as a potential driver of the mental health crisis, at least one that needs more investigation.
The College Fix reached out to two LGBT advocacy groups twice via email in the past two weeks to ask for comment on the findings but neither responded.
The Fix reached out to the press teams for GLSEN, which advocates for LGBT policies in K-12, and GLAAD, which pushes for media representation of LGBT individuals.
MORE: Ethicist challenges university claim that pronouns reduce LGBT suicides
IMAGE: The Agenda With Steve Paikin/YouTube
Like The College Fix on Facebook / Follow us on Twitter