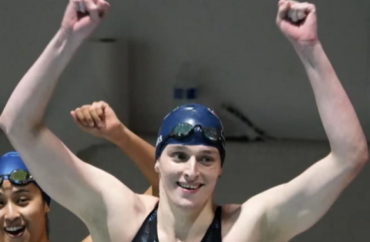 Transgender swimmer's win record dramatically improved after transitioning
The University of Pennsylvania named Lia Thomas as one of its two nominees for the National Collegiate Athletic Association 2022 Woman of the Year award, the NCAA announced in a news release Thursday.
Thomas, a transgender swimmer who formerly competed on Penn men's swimming team, smashed women's sports records and won big during the 2021-22 NCAA season.
Thomas was allowed to participate on the women's team after taking drugs to suppress testosterone for one year, in line with NCAA regulations.
Each eligible school can nominate up to two female senior athletes for NCAA Woman of the Year, according to the NCAA website. Some 577 athletes have been selected for 2022, and nominations are now closed.
For more than 30 years, the annual award has recognized "female student-athletes who have exhausted their eligibility and distinguished themselves in their community, in athletics and in academics throughout their college careers," according to the July 14 release.
The nominees represent 23 sports in Divisions I, II and III, according to the NCAA.
"As 2022 marks the 50th anniversary of Title IX, the NCAA Woman of the Year program is an important opportunity to honor and reflect on the impact of women on intercollegiate sports," the release continued.
Thomas was the high-point scorer and the only swimmer to win three individual events at the Ivy League Swimming and Diving Championship in February, The College Fix reported.
Testosterone causes 'a large performance gap' between males and females, Harvard biologist says
Despite Thomas' many accolades, the swimmer's award-winning performance may have more to do with sex than gender identity.
"Activists conflate sex and gender in a way that is really confusing," Carole Hooven, a Harvard evolutionary biologist and author of a book on testosterone, stated in a May 29 article on Thomas published by The New York Times.
"There is a large performance gap between healthy normal populations of males and females, and that is driven by testosterone," Hooven stated.
Even more, athletes who transition from male to female retain a significant advantage over biological females even after undergoing NCAA-mandated "feminising [testosterone-suppressing] therapy," according to an August 2020 article in the British Journal of Sports Medicine.
The NCAA Woman of the Year selection committee will identify the top 30 athletes from each division, select three finalists from each, and finally name the winner in fall 2022, the NCAA website stated.
MORE: Trans ideology sinks as Lia Thomas swims
IMAGE: Today/YouTube
Like The College Fix on Facebook / Follow us on Twitter