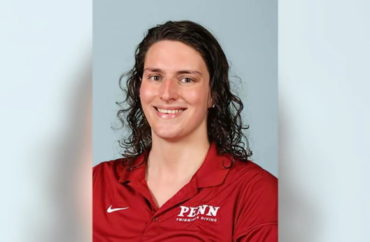 Lia Thomas, the transgender University of Pennsylvania swimmer who has smashed college women's records since early December, was the high-point scorer and the only swimmer to win three individual events at the Ivy League Swimming and Diving Championship last weekend.
Suzy Weiss, writing for Bari Weiss's "Common Sense" Substack newsletter, reported suppressed ambivalence from the sidelines.
🥇🥈

Lia Thomas is the @IvyLeague champion in the 500 free. Her time of 4:37.32 is a new pool record.

Catherine Buroker finishes in second.#FightOnPenn pic.twitter.com/ki2SQdxn6Q

— Penn Swimming & Diving (@PennSwimDive) February 17, 2022
Thomas is "a totem in the culture wars," Weiss wrote, embodying abstract and divisive debates about the meaning of male and female. Parents who wish to support minority rights — or simply align with the progressive elite — reached the limits of their liberalism as Thomas dominated their Ivy League daughters.
These parents helped get their children into the most competitive colleges in the world.
"They have opinions about everything," Weiss wrote. "They will explain how there's a $400 swimsuit that you can only wear once, but that might be worth it for the tenth of a second."
"But as history unfolds in front of their noses," Weiss stated, "they refuse to comment."
One anonymous Penn dad at the competition addressed the issue directly: "No amount of hormone suppression will ever roll back the advantages Lia possesses because of male puberty."
He and his wife said their daughters have received "veiled threats" from the university to discourage them from speaking out.
Says another Penn mother, "They haven't asked our girls how they feel about any of this."
Other parents tried to withhold more than their names. One mother said she was pleased for Thomas — and then asked Weiss to delete the recording of their interview.
Another Penn mom said her own daughter told her not to comment.
"She's worried about getting into grad school," the mom told Weiss, "and she doesn't want my name or hers to come up on Google attached to this."
After speaking to another dad, Weiss was contacted by his wife, who implored her to take his name off the record.
"Please don't hurt my child!" she texted.
Parents on the sidelines fear more than the defeat of their daughters this time around — they worry about permanent setbacks for biological women.
"The parents' longer-run fear is that college coaches will start recruiting trans athletes, and that female athletes who have worked tirelessly in high school won't get a fair shot," Weiss wrote.
"They say their daughters can't reasonably train harder, lift more, or do anything to overcome the biological facts that make Thomas impossible for them to beat."
"The NCAA and Ivy League are essentially telling their daughters, they say, to set their hopes on second place."
Weiss wrote that she thinks that Weiss's own parents, watching from the sidelines, must "want everyone to leave their kid alone."
And the parents don't seem to bear a personal grudge against Lia, Weiss said. Most said they'd accept Thomas swimming with males or in some other, independent category.
Another anonymous Penn father, whose daughter swims against Thomas, said he blames the NCAA, the National Collegiate Athletic Organization, a nonprofit that regulates student athletes from North American institutions. The mom added that the organization "has done biological women, and [Lia], wrong, and they need to fix it."
An unnamed Princeton dad frames the issue more starkly: "Either the people supporting this are on the wrong side of history, or it's the end of women's swimming."
MORE: Penn and Harvard issue statements of support for transgender swimmer
IMAGE: Penn Athletics
Like The College Fix on Facebook / Follow us on Twitter