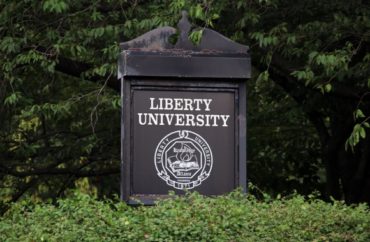 The school has partnered with Charlie Kirk for the endeavor
Liberty University, the prominent Baptist Christian school in Lynchburg, Virginia, announced this week the creation of a new think-tank meant to promote Judeo-Christian values in the political and cultural realms.
The Lynchburg News & Advance reports that the "Falkirk Center for Faith and Liberty…aims to shape government policies, national institutions and American culture around Judeo-Christian principles."
The word "Falkirk" is a portmanteau of the names Falwell and Kirk. Jerry Falwell, Jr., is the president of Liberty University; the think tank is being launched as a collaboration between Liberty and Charlie Kirk, the founder of campus conservative organization Turning Point USA.
In a statement, Kirk declared it "an honor to partner with President Jerry Falwell and Liberty University on this purpose-driven mission."
Both Liberty University and Turning Point USA are well-known locus points of Trump support and activism. Falwell, Jr., has been a vocal supporter of President Trump since early 2016. Charlie Kirk, meanwhile, has been described as "Trump's man on campus." Turning Point USA just recently established a chapter at Liberty.
The think tank will operate under close university supervision, The Advance reports:
The nonprofit Falkirk Center, which is named after its co-founders, will operate as a wholly-owned subsidiary of Liberty University and will be based in Lynchburg. The center is funded by the university, which boasts an endowment of nearly $1.5 billion, according to a financial audit released by the school. A director has not yet been named.
"As attacks on traditional Judeo-Christian beliefs grow in frequency and intensity, the need has never been greater for a national revival of our foundational principles throughout our society and institutions in America," Falwell said in a written statement. "We are delighted that Liberty University can play a part in this mission for Christ and American ideals."
Kirk said the think tank will be "used to organize an army of believers in faith and liberty."
MORE: Feminism group launches at Liberty to counteract male-dominant leadership
IMAGE: Katherine Welles / Shutterstock.com
Like The College Fix on Facebook / Follow us on Twitter