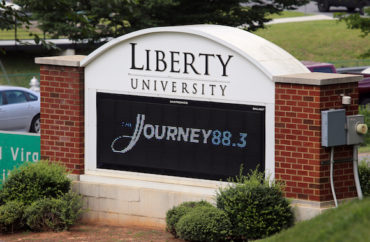 'I am grateful that they allowed people to come back if they could'
News reports covering Liberty University's decision to reopen declare doom and gloom for the Lynchburg, Virginia, school.
"He's Going to Do Whatever He Wants," blared a Politico headline from Sunday, which adds: "Jerry Falwell Jr.'s decision to reopen Liberty University's campus amid the coronavirus pandemic has sparked anger and confusion—even among those usually sympathetic to him."
"Liberty University Could Face Liability for Failure to Shut Down for Coronavirus," opined Slate on March 27, noting that "placing people in a dangerous position is the kind of careless—even reckless—behavior that fills first-year torts casebooks."
Even Virginia Gov. Ralph Northam piled on, quoting scripture to the private, Christian university: "As we are told in First Corinthians, it is required that those who have been given a trust must prove faithful. Proving faithful means providing clear and consistent guidance. And it means respecting the duty that Liberty has to its students, staff, the Lynchburg community in which it is located, and our Commonwealth."
But ask students currently living on and around Liberty University, and they'll likely say the hype is much ado about nothing.
In interviews with The College Fix late last week, several students back on campus said the picture painted by the mainstream media that the university is open for business as usual is largely fake news, that only a small number of students have returned.
What's more, they said, health and safety guidelines about social distancing and other protective measures are being fully enforced. Meanwhile, they added, campus is a ghost town and all classes remain online. They also said they feel safe.
"I feel that Liberty has been doing a great job of keeping everything safe and healthy and sanitary," said junior Kara Edmonds, who lives in the dorms. "In all the dining halls, they are following all the Virginia rules. They only let in ten people at a time, they're making you stand safe distances apart, they are taking the necessary precautions. … We have had custodial come in and clean bathrooms twice a day."
Edmonds said she is thankful the campus reopened, as her hometown is in a rural area with no internet access.
"I am grateful that they allowed people to come back if they could," she said. "I would not have come back just to have fun with my friends. They realize some people can't go home for one reason or the other, so they are catering to that, which I am grateful for."
Anna Kelchner, another students who returned to Liberty's dorms, agreed that Liberty officials are being very cautions about health precautions. Dining services hours are limited and are patrolled to ensure people are distanced and to regulate the number of people in each facility at a time, she said, adding seating locations are closed off by yellow tape and the library has very limited seating to ensure social distancing.
"I feel very safe on campus," she told The Fix via email. "Everything is being sanitized every hour and social distancing is being heavily required in every location on campus. While I was away for spring break, I did worry about catching it, but I took heavy precautions. Since I have been back to campus, I have truly not worried very much about catching it, but I am still ensuring social distancing and quarantining unless going out for necessary things."
Addison Smith and Brittany Slaughter, two Liberty students who live near campus and are student reporters for The College Fix, said they believe the mainstream media has over-hyped the situation at Liberty.
"Liberty has not 'reopened' its campus like the media wants to portray it," Smith said via email. "The coverage of Liberty's decisions has been highly unfair and misleading. Campus is a ghost town. There are only around 2,000 students back, half of which are internationals and cannot leave, with the remaining students also either being stuck or have determined campus is safer than returning home."
"… The school has been in full compliance with all of Gov. Northam's orders and even passed a surprise inspection with zero violations. I am extremely proud of the professionalism from the administration in the handling of this situation."
Smith, who lives less than a mile off campus in a townhouse, visits the university to take advantage of his commuter meal plan and said he's impressed with safety precautions he's seen in the dining areas.
"They have managed to keep necessary functions open to students who need them while complying with all government orders," he said.
Slaughter, who lives near campus, took aim at Northam's comments.
"Liberty allowing students to return to complete classes online from campus is not only the right thing to do from an academic and business standpoint but from a Christian perspective," she said via email.
"Students are paying for room and board and should be allowed to return to make the most of their investment. If Liberty would have closed their doors completely, many would have been left homeless. The Bible calls us to take care of one another, and kicking students out in no way does this," she said.
Late Sunday evening, The New York Times published a report regarding claims that some Liberty students may have coronavirus. Soon after, Falwell took to Twitter to accuse the newspaper of "lies."
Big surprise. @NYTimes lies about @LibertyU again. Here's the truth. (1/5)

— Jerry Falwell (@JerryFalwellJr) March 30, 2020
. @LibertyU is being supportive and embracing its responsibility to care for students instead of running away and pushing the COVID problem off on others!
LU is blessed that we have no cases on campus but is committed to providing proper care regardless of what happens!

— Jerry Falwell (@JerryFalwellJr) March 30, 2020
The New York Times amended its article after the university called for corrections.
"After initial publication of this article," the Times reported, "the university said it had asked four students who returned from the New York area and two of their roommates to self-quarantine, but none of them were referred for testing and none had symptoms. One student who returned from a county with a high number of cases was running a fever and had a cough. He was tested and elected to go home pending the results rather than self-isolate, the university said."
MORE: Liberty students return to campus after spring break
IMAGE: YouTube screenshot
Like The College Fix on Facebook / Follow us on Twitter