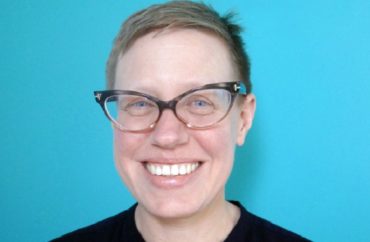 ANALYSIS: Library group has come under fire for political activism, trying to stop Christian story hours
At least eight government entities have cut ties with the American Library Association since its new "Marxist lesbian" president took over, a College Fix analysis found.
The American Library Association is currently led by Emily Drabinski, a self-described "Marxist lesbian," who is also a librarian for the City University of New York. She also said that libraries and public schools need to be "site[s] of socialist organizing," during a conference in September.
The group has come under fire for its support for pornographic books available to kids while it simultaneously tried to stop conservative Christian events.
The College Fix reached out to Drabinski (pictured) and the ALA for comment on the departures and asked if there were any plans to meet with the former members to discuss their concerns. A spokesperson for the library association responded to The Fix but did not address the specific question about departures.
Raymond Garcia told The Fix via email:
The American Library Association (ALA) is a non-partisan, non-profit organization that is guided by a single mission: 'to provide leadership for the development, promotion, and improvement of library and information services and the profession of librarianship in order to enhance learning and ensure access to information for all.' ALA remains committed to providing essential support for every library and library worker in every state and territory to help them better serve their communities.
Garcia also commented on Drabinski and her political beliefs.
"While we respect the rights of individuals to exercise their freedom of thought and expression, ALA does not align with, endorse, or promote the political beliefs, values, or ideologies of any one individual—including its elected leaders and members," the communications specialist said.
While Garcia said the group supports freedom of thought and expression, its liberal political activism led to at least one member leaving.
"[My] office cannot continue to support an organization that does not protect the First Amendment rights of Missourians and refuses to follow its own governing documents," Missouri Secretary of State John Ashcroft previously wrote in a statement to the organization. "My hope is that you (ALA) reconsider this blatantly political stance, abide by your own principles and protect the rights of Missourians."
The announcement came after ALA staff were caught on video instructing members on how to stop Christian story hours organized by actor Kirk Cameron of "Growing Pains" fame.
🚨 1/ BREAKING: We have obtained exclusive evidence that the taxpayer-funded American Library Association @ALALibrary is circulating guidance to sabotage conservative or Christian parent groups from gathering in public libraries on August 5th. One ALA director gave suggestions on… pic.twitter.com/iBqwIChNhJ

— BRAVE BOOKS (@BraveBooksUS) June 26, 2023
Other former members include the Texas State Library and Archives Commission, the Montana State Library, and the South Carolina State Library.
The ALA's advice on how to keep out Christians from hosting pro-family story hours in the libraries also contributed to South Carolina's decision to cut ties.
"ALA has become a distractor from the core mission of serving all people and has failed to develop an understanding of differences in geographic areas," the agency director also wrote.
Several Florida counties have cut ties, including Collier, Hernando, and Citrus, according to Florida's Voice.
Campbell County in Wyoming also cut ties with the American Library Association, just a few months after Drabinski's election though before she had taken office.
Wyoming lawmakers have tried unsuccessfully to convince Republican Governor Mark Gordon to withdraw the state library from the ALA.
MORE: Students disrupt and cancel U. Utah YAF screening of trans-critical film
IMAGE: CUNY Graduate Center
Like The College Fix on Facebook / Follow us on Twitter