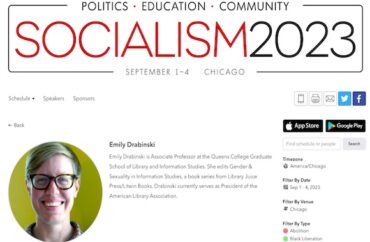 Remember Emily Drabinski, the self-proclaimed Marxist lesbian CUNY librarian who was elected president of the American Library Association?
Remember, too, how the editor-in-chief of a Montana newspaper chided Drabinski's critics, saying they assume her political beliefs will "guide her every action"?
Well, last week an intrepid independent journalist attended "Socialism 2023," the "largest socialist conference in the country," and discovered that's just what Drabinski wishes to do.
She said so herself.
According to Karlyn Borysenko at Actively Unwoke, Drabinski was scheduled to give a talk at the conference (pictured), but due to apparent ongoing controversies over her Marxist leanings it was "quietly canceled."
Nevertheless, Drabinski did speak briefly at a September 2 session titled "Freedom To Learn: Black and Asian American Solidarity Against Attacks on Antiracist Education."
Borysenko notes that following the presenters' talk (two gents associated with the "social justice teaching magazine" Rethinking Schools who discussed "fugitive pedagogy," or "how to smuggle socialist ideas like critical race theory into the classroom even when the law outlaws it") Drabinski got in line to offer a comment.
MORE: VIDEO: Cuban Syracuse student wants peers to understand horrors of socialism
Addressed as "comrade" as she was about to speak, Drabinski said (emphasis in the original)
I'm Emily and I'm a librarian.

(There's a large round of applause – the crowd knew who Emily was)

I just want to say thank you for bringing up libraries, and classroom libraries, but also school libraries of all kind, public libraries and higher education library who have been under attack in similar ways

I think your point that public education needs to be a site of socialist organizing, I think libraries really do too.

I haven't seen that, working in libraries, but I think there's a real opportunity here to both connect with what's happening in public education, what's happening in libraries, but also we need some help with libraries.

We need to be on the agenda of socialist organizing.
Three states — Montana, Texas and Missouri — thus far have left the American Library Association, with nine more considering it based on GOP lawmakers' actions, the Associated Press reports. Montana and Texas exited specifically due to Drabinski.
Drabinski's comments at the socialism pow wow notwithstanding, the ALA claims it does not have a "political agenda" and has "always been nonpartisan."
While the AP report focuses on conservatives' alleged efforts at "book banning," early last year an allegedly anti-racist group at the University of Minnesota Duluth — which included at least one professor — was active in removing library books it had deemed "racist."
Since the ALA professes opposition to book bans, The College Fix had asked Drabinski about this group's activities … but she did not respond.
MORE: UChicago coed threatened with violence for saying socialism more dangerous than coronavirus
IMAGE: Socialism 2023
Like The College Fix on Facebook / Follow us on Twitter