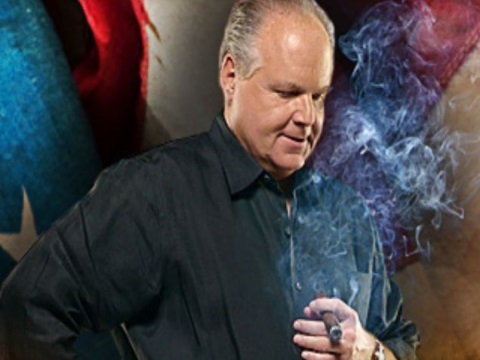 RUSH: 'You wake up one day and you think you've lost the country. I'm trying to explain why'
Rush Limbaugh spent a significant amount of time during his show on Tuesday defending the need to expose leftist indoctrination on college campuses. He repeatedly emphasized that the anti-American, anti-conservative, white-guilt, pro-environmentalism fringe teachings at colleges today must be highlighted and exposed.
"I actually think that what's going on in higher education needs all kinds of light shined on it, folks, not less, 'cause I think it's at the root — and there are many of these — I think it's the root of the destruction that's taking place in our culture, certainly educationally," he said. "It is right there as a source. I think there needs to be even more exposure as to what's happening on college campuses, particularly with how much it costs, how much debt is being incurred, for what? It's poisonous in many cases. I mean, not all. It's not everything at every university. But it clearly is spreading."
His comments came after a caller questioned why he often cites anecdotes about leftist professors instead of just ignoring them.
The radio talk show host answered that extremists professors are no longer obscure – they control higher education and are effecting the very heart and soul of this nation's young people – they way they think, and the way they vote.
"Twenty-five years ago I did treat them that way," Limbaugh said of professors, adding at that time he poked fun of them rather than took them seriously. "Twenty-five years ago, 20 years, 15, 10 years ago I talked about them and we created parodies and we laughed about it. And we assumed nobody's gonna believe this, this is insane. And here we are in 2015 and nearly half the country's buying into this stuff."
"… So I've decided it's time people be told what's happening to their kids on campus and how and who's doing it, because everybody's scratching their heads, 'How did this happen? When did this happen?' You wake up one day and you think you've lost the country. I'm trying to explain why."
Limbaugh said for every one extremist professor he cites on his show, "there are countless others doing the same thing, teaching the same thing."
"I think that's one of the primary reasons the country is why it is is because of the mind pollution and corruption that's been going on beneath the surface," he added. "… [Leftist ideology] has to be taught, and, believe me, it is being taught. But now it's standard. It is in the syllabus. It's not some oddball like Ward Churchill. Where every university has one of these guys, now they're filled with them. It's become the standard, ordinary everyday curriculum, and so the focus has changed here."
Limbaugh explained that the university is one pillar of society corrupted by leftist ideology, and it's one main reason society is crumbling.
"If it means giving these people airtime or mentioning them or whatever, these are the kind of people that need to be called out," he said. "These are the kind of people about whom you need to know. I mean, many of you have kids, you're gonna send 'em away to college or they're already there. You've done your best to raise them according to your beliefs. You want 'em to turn out the absolute best they can be, and the minute you lose them and they're off to college and their minds are being attacked by this stuff."
Like The College Fix on Facebook / Like us on Twitter