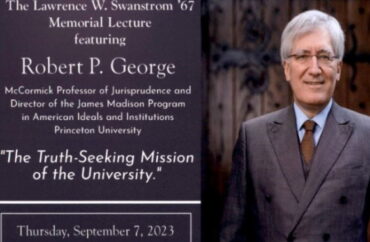 UPDATED
Protesters at Washington College recently shouted down renowned conservative Princeton University Professor Robert George as he gave a guest speech titled "The Truth-Seeking Mission of the University."
"Whistles blew loudly, echoing around the room. The protesters marched in, campus security allowing them passage. Shouting from the protesters started right away, breaking up the professor's speech," reported the Star Democrat on Sept. 10. "The protesters came into Hynson Lounge, waving flags and signs symbolizing LGBT pride, about halfway through George's lecture. They wouldn't stand down until it was canceled."
"…Protesters holding signs gathered against the back wall chimed in occasionally, but mainly it was the two masked individuals leading the protest," the newspaper reported, adding some faculty who tried to silence the protesters were unsuccessful. "Fast-tempo music began blaring, whistles constantly blew, and there was even a little dancing in between the tables."
"We have the power here to make our voices heard," a protester reportedly called out to the crowd. "Are you going to tell me that WAC (Washington College), can expel every single one of us? Absolutely (expletive) not!"
Brian Speer, a spokesman for Washington College, told The College Fix via email on Tuesday the protesters "took issue with homophobic and transphobic statements that Professor George has made in the past."
"Prior to the event, the College declined requests to cancel the lecture and shared an email with campus that reinforced our institutional values for informed, critical inquiry and the exploration of a wide diversity of perspectives," Speer told The Fix.
"The College provided a number of alternate activities and reminded students that it would be a violation of the Student Honor Code to disrupt a speaker. It is unfortunate that a very small group of students chose to disrupt the lecture," he said.
He said the speech's cancelation "is not consistent with the core values of the liberal arts to which Washington College is committed."
Washington College is a private, liberal arts school in Chestertown, Maryland. The Chestertown Spy reported that the Sept. 7 guest lecture was hosted by the Institute for Religion, Politics, and Culture at Washington College as its inaugural Lawrence Swanstrom Memorial Lecture.
"Professor George is the McCormick Professor of Jurisprudence and the founding director of the James Madison Program in American Ideals and Institutions at Princeton University and one of the strongest voices advocating for genuine intellectual openness and free discourse on college campuses," it reported. "…This event will take place … at the heart of the Washington College campus and is free and open to the public."
Prior to being shouted down, George said "liberal arts colleges like this one have three fundamental purposes: The pursuit of truth. The preservation of that truth. And the transmission of that truth. And anything these institutions do to undermine these purposes, they shouldn't allow," the Star Democrat reported.
It was after George warned those in attendance about group think, pointed out that all great minds do not think alike, and said students need to be challenged and hear from all perspectives that protesters began raucous disruptions, the Star Democrat reported.
George has yet to address the controversy on his popular social media X account, and the student newspaper The Elm has not covered the protest as of Tuesday.
The College Fix on Tuesday reached out to Washington College Associate Professor of Political Science Joseph Prud'homme, founding director of the Institute for Religion, Politics, and Culture, for comment. The professor referred The Fix to the campus spokesman.
The Star Democrat reported:
Prud'homme beseeched the protestors to allow the speaker to express his view. He said once the speaker finished, there would be time to question his perspective and have a discussion engaging everybody.

"How did Hitler rise to power?", a protester said in a loud voice, cutting off Prud'homme.

When nobody answered him back, he said, "Because he (Hitler) was given a platform."

The speaker said, while he was not calling George that, his ideas were dangerous to the transgender community.
As The College Fix has previously reported, Professor George is an outspoken critic of cancel culture and a strong proponent of intellectual diversity.
Editor's note: The article has been updated with comment from Washington College.
MORE: Princeton Professor Robert George calls on conservatives to be more courageous
IMAGE: Washington College screenshot
Like The College Fix on Facebook / Follow us on Twitter