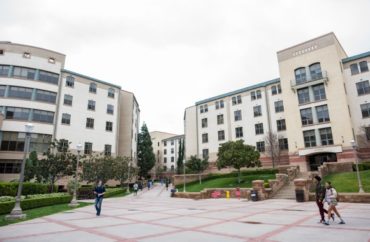 But Liberty was criticized for its choice 
Liberty University recently came under fire for its decision to allow students to come back to live in their dorms on campus under strict health and safety guidelines, but in reality many universities across the nation have allowed students to do the exact same thing.
At Princeton University, for example, about 380 undergraduates were approved to remain on campus, plus another 1,200 or so graduate students whose primary residence is on campus; they're served by hundreds of staff members who practice social distancing while working to support the on-campus community, according to the Ivy League university's website.
At San Diego State University, 200 students were given permission to stay on campus, with campus officials telling the San Diego Union Tribune they "are students approved under the list of exceptions (i.e. students who cannot go home, those who have known health or safety risks, and for those students who do not have an alternate residence to return to)."
At nearby UC San Diego, "students who had been living on campus were offered refunds for housing if they moved out by March 31," creating plenty of space for proper social distancing for remaining students, the university's website states, adding three students on campus tested positive for COVID-19.
That fact did not make national headlines, although after one Liberty student tested positive for COVID-19, it was reported by The New York Times. 
In the heartland, graduate students still living on North Dakota State University's campus were recently warned not to gather for parties amid the coronavirus crisis after a dean was told "remaining students in student housing are socializing with each other and hosting cookouts and birthday parties in which large numbers of friends are participating," Inforum reports, adding about 230 students were still living in residence halls as of early April.
Over at Ohio State University a similar admonishment for students to avoid campus parties was sent out under the threat of "citations, fines and criminal charges."
At campuses in Iowa, while "most of the nearly 20,000 students who were living in one of Iowa's public university residence halls have moved out for the spring semester, about 570 are staying put after appealing to administrators with extenuating circumstances," the Gazette reports.
"[S]ome students — like international students — were unable to get home or find another place to live, the campuses agreed to allow some to stay in their halls."
These campus scenarios are similar to the situation at Liberty University, which was accused of recklessly re-opening its campus. In reality, only a small percentage of students returned to the private, Lynchburg, Virginia-based campus, where health and safety guidelines about social distancing and other protective measures are enforced and classes remain online.
"Because Liberty is a leader among conservative and evangelical institutions, we end up having the biggest target on our backs," Liberty spokesman Scott Lamb told The College Fix. "But our response to Covid-19 paralleled that of other large universities."
Liberty officials have worked to set the record straight.
On April 9, Liberty sent an email to its students stating its "response to COVID-19 puts us in pretty good company, despite what you might conclude from the media accounts."
The school included a chart to highlight its response compared to other large universities, including UCLA, Texas A&M and Virginia Tech.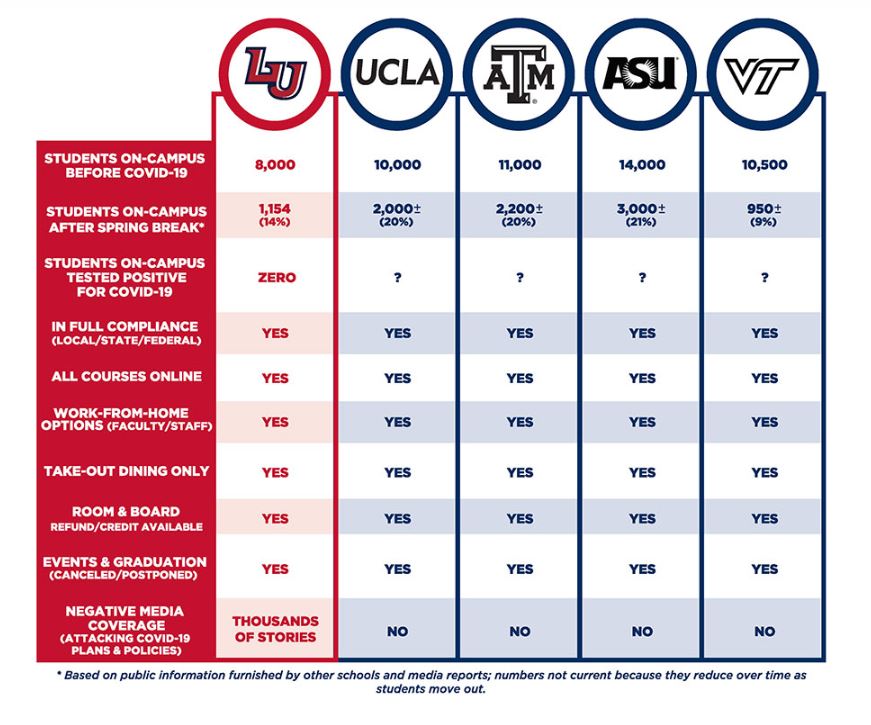 Per the chart, UCLA had 2,000 students on campus, Texas A&M with 2,200 in the dorms, ASU with 3,000, and Virginia Tech at around 950.
"[F]rom the beginning of the crisis, we made tireless efforts to adhere — and in some cases go well beyond — the executive orders from the governor of Virginia," according to Lamb. "Who can know the motivation behind the media attacks on Liberty? One thing is for certain: the facts do not align with the stories being written about us by the mainstream media."
MORE: Ohio State urges students to call the cops if they see peers hanging with friends
IMAGE: Michael Gordon / Shutterstock
Like The College Fix on Facebook / Follow us on Twitter