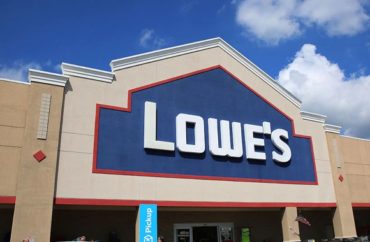 Will partner with a 'reskilling' company to help employees gain new skills
Employees at Lowe's home improvement stores across the country can now take advantage of a program to further their career by adding new skills.
The company announced that it had launched a "debt-free education program" for its more than 300,000 employees. The "tuition-free" initiative will "help associates excel in their jobs today and build toward the careers of tomorrow within Lowe's, including pathways into supply chain, logistics, data analytics, cybersecurity, technology and more."
"Programs include flexible classes that fit different schedules, fully covered textbooks and course fees, and one-on-one support from Guild coaches," the company stated.
The new offer is on top of its "direct payments of up to $2,500 annually in tuition assistance for more than 165 additional academic programs" that help Lowe's associates continue their learning.
Guild is a training company that "build[s] strategic education and reskilling experiences" with companies. It coordinates educational programs between company workers and 2,200 institutions, including public universities and certificate programs.
"At Lowe's, we believe greater access to education leads to more opportunities, and our success is intertwined with our associates' success and their ability to continuously learn," Janice Dupré, the executive vice president of human resources, stated in the news release.
Neither Guild nor Lowe's responded to requests for comment from The College Fix about how the initiative will work and any guidelines for participation. The Fix contacted media teams for both companies but has not received a response to inquiries sent in the past several weeks.
Career expert predicts more companies will follow Lowe's lead
One career expert said that educational opportunities provided by companies can help attract and retain good workers.
"When providing continual upskilling, employees have the opportunity to advance within a company," Ken Coleman, a host with Ramsey Solutions, told The Fix via a spokesperson. "With that comes greater responsibility, a larger paycheck, and a bigger impact."
"For the employer, it creates more engaged and loyal employees, not to mention less turnover and burnout," Coleman stated. The radio host has written several books on how to find a rewarding job and regularly talks at conferences about career advice.
He said he "absolutely" thinks more companies will create similar educational opportunities as the economy evolves and college costs increase.
If companies don't provide people with an opportunity for growth, they are going to struggle to not only retain current employees but attract new ones," he told The Fix. "Ongoing skill training is a benefit competitive employers need to offer if they want to stay in the game."
Coleman told Fox Business in March that he expects college degrees will become less necessary in the coming years.
"Technology schools are exploding all across the country," Coleman told Maria Bartiromo.
He said people are beginning to figure out they can get to their desired career faster and without spending as much money compared to a traditional college degree.
MORE: Consider a skilled trade career, Chicago Public Schools tells students
IMAGE: Lowe's
Like The College Fix on Facebook / Follow us on Twitter