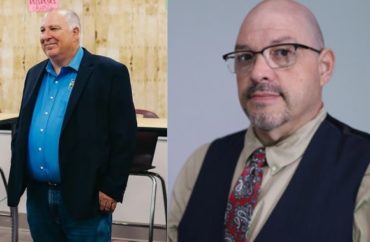 UPDATED
LSU says grad student will no longer be asked to teach
A sociologist at Louisiana State University allegedly called a Republican legislator a "f*cking moron" and a "fat f****** piece of sh*t" in response to a vote in support of prohibiting gender-confused minors from receiving drugs and surgeries to alter their bodies.
Marcus Venable reportedly left the message for Senator "Big Mike" Fesi. Venable also said he "can't wait to read your name in the f****** obituary. I will make a g**d**n martini made from the tears of butthurt conservatives when we put your f****** a** in the ground."
Venable (pictured, right) is listed as a current graduate student at LSU and taught courses at the university as recently as the spring semester, according to RateMyProfessor reviews. Some of the recent reviews appear to be added after the audio of his call came out so those may not be reliable.
In response to the menacing message, LSU spokesperson Abbi Rocha Laymoun told The College Fix via email Thursday evening that Venable will not be teaching on campus in the future.
"As a university, we foster open and respectful dialogue. Like everyone, graduate students with teaching assignments have the right to express their opinions, but this profanity-filled, threatening call crossed the line. This does not exhibit the character we expect of someone given the privilege of teaching as part of their graduate assistantship. The student will be allowed to continue their studies but will not be extended the opportunity to teach in the future," Rocha Laymoun stated.
Conservative digital strategist Greg Price tweeted that the "way they found out it was him is Senator Fesi reported it to the Sheriff who tracked his number."
Fesi (pictured, left) voted to override a veto by the state's Democratic Governor John Bel Edwards of House Bill 648. The bill would "exclude certain services, treatments, and procedures that alter the sex characteristics of a minor."
The list of prohibited drugs include injecting kids with gender dysphoria with testosterone or estrogen and other drugs commonly used to make individuals appear to look like the opposite sex. It also prohibits removing "any healthy or non-diseased body part or tissue."
The College Fix contacted Venable at his listed LSU email address on Thursday morning and asked for comment on the accuracy of the allegation against him and if there was any context, if he did say the words, that needed to be added to understand what he said. He did not respond.
On Monday, July 24, Venable responded to an email inquiry with first messages. He first responded with a laughing emoji and in the second email he wrote, "You wrote 'journalist' when you meant to write 'web logger[.];"
Ethics experts have warned about the problems of injecting individuals with drugs or removing healthy body parts.
"Encouraging students in the false belief that they can somehow become (or in some mystical way, already are) the opposite sex is wrong," ethicist Nathanael Blake previously told The Fix. "It will push some students toward a lifetime of dangerous medical interventions."
Colorado State University Professor Moti Gorin has raised concerns about the reliability of evidence that purports to support the benefits of altering someone's body who identifies as transgender.
Editor's note: The article has been updated with a statement from LSU and Venable.
MORE: Instructor threatens reporter with machete
IMAGES: BigMikeFesi.com; Lousiana State University
Like The College Fix on Facebook / Follow us on Twitter