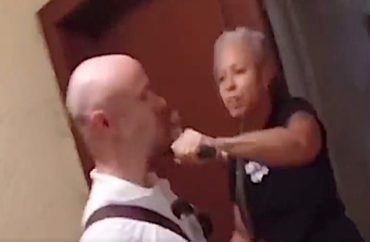 UPDATED
The Hunter College art adjunct who earlier this month trashed a student group's pro-life table today threatened a journalist by putting a machete to his neck.
When New York Post reporter Reuven Fenton showed up at Shellyne Rodriguez's apartment in an attempt to ask her some questions, she responded in much the same way she did with the Hunter College Students for Life earlier in the month.
According to the Post, Fenton was greeted with "Get the f**k away from my door, or I'm gonna chop you up with this machete!" (Pictured)
She reiterated: "Get the f–k away from my door! Get the f–k away from my door!"
Fenton and his accompanying photographer left after the encounter, but Rodriguez followed them out of the building, threatening them further while still wielding the blade: "If I see you on this block one more f–king time, you're gonna … Get the f–k off the block! Get the f–k out of here, yo!"
Rodriguez ended up kicking the Post photographer in the shins before going back inside her apartment building, according to the report.
MORE: She threatened to stab people for saying 'All Lives Matter.' Her Harvard diploma couldn't save her job.
Hunter College spokesman Vince DiMiceli told the Post that Rodriguez "has been relieved of her duties at Hunter College effective immediately, and will not be returning to teach at the school."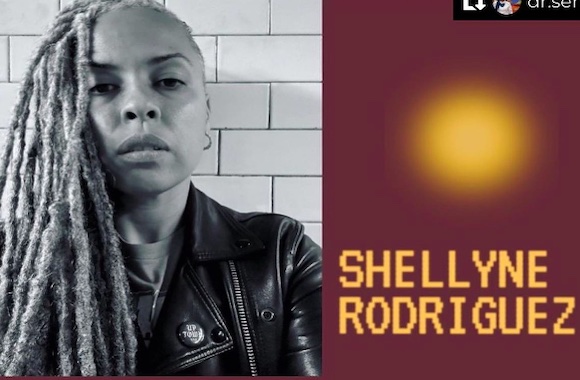 In the process of wrecking the Students for Life display on May 2, Rodriguez had claimed the exhibit was "violent" and was "triggering" her students. She told the male student manning the table that "you can't even have a f—ing baby. So you don't even know what that is. Get this sh** the f*** out of here."
The group CUNY For Abortion Rights stood by Rodriguez, claiming she "constructively critiqued" the exhibit and "correctly assessed the damage" it was doing to Hunter's "learning environment."
A petition created in Rodriguez's defense said the adjunct's actions "to shut down the tabling were fully justified, and are part of a long and celebrated CUNY legacy of confronting groups such as military recruiters who disseminate misleading information."
It also said that Students for Life "and other far-right groups are not welcome on our campuses. Anti-abortion propaganda actually endangers people's lives, and incites other far-right views and actions to emerge."
Hunter College is a public institution.
UPDATE: In a recent statement to ARTnews.com, Rodriguez said Hunter College has "capitulated" to "racists, white nationalists, and misogynists."
She said Hunter asked her to apologize for the pro-life table incident, "yet before the process could be completed, on May 19th, Students for Life circulated a manipulated video of the incident on social media and mobilized their members and supporters to attack me. For the past two weeks, I have been inundated with vile and hateful emails, texts, and voicemails nonstop."
Rodriguez added that both incidents have "taken a toll on my mental health, robbing me of my sense of safety, and creating reasonable fear that they would show up at my home to cause me physical harm, as has happened with so many other women who have similarly had their personal info exposed as a form of politically motivated harassment.
"As much as this incident has stakes for my life, it is ultimately just one part of a broader political struggle taking place across the country. Right wing media organizations are weaponizing and sensationalizing this case to further their agenda, and using me as a prism through which to project their attacks on women, trans people, black people, Latinx people, migrants, and beyond."
MORE: I told my peers men cannot have babies. They've threatened to kill me because of it.
IMAGES: Citizen Free Press/Twitter; artbysemente_visual/Facebook screencap
Like The College Fix on Facebook / Follow us on Twitter