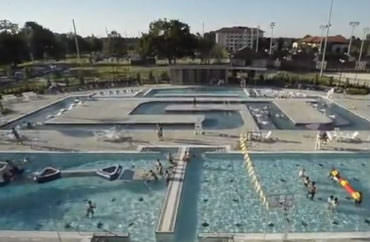 'The height of decadence and stupidity'
Louisiana State University doesn't just fire professors when they cuss in classes on teaching K-12 in an urban setting.
It also charges students a relative fortune for an $85 million renovation and expansion of the public university's recreation center, which now includes a 536-foot "lazy river."
The Chronicle of Higher Education obtained public records showing survey responses from students before the massive increases in student fees were approved, complicating the university's claim that four in five students "voted to tax themselves" to pay for the obscene upgrade:
More than 800 students, among more than 4,000 survey respondents, described in writing their opposition to a fee increase. Some complained that they would graduate by the time the renovations were complete; LSU responded by allowing alumni to use the facility for every year they'd paid into the system. But plenty of respondents were appalled at the idea of building a lazy river during an economic downturn. One student described the project as "the height of decadence and stupidity."

"This university is in a financial crisis," the student wrote, "and I'm frankly aghast that spending money on this is even considered when the university's core academic mission is under constant assault from spending cuts. Wake up you idiots."

Many cash-strapped students said they were satisfied with the recreation center as it was, describing it as "amazing" and "awesome."

"This is completely ridiculous and you have all lost your minds," one wrote.
Sure, LSU's library might fall apart, but at least it has a lazy river https://t.co/wJ5tol4bf7

— NOLA.com (@NOLAnews) October 17, 2017
LSU also disingenuously cited survey results to justify fee hikes that students did not remotely support.
Half of students approved the abstract idea of increasing fees by $35 to more than $50 per semester, but the university has imposed "incremental increases of $45 each year for three years, adding up to $200 a semester — more than triple what students paid before," the Chronicle says.
F. King Alexander, the president of this joke of a university, justified the renovation at its ribbon-cutting (conveniently omitting the lazy river) by saying he wanted to coddle students:
"Quite frankly," he said, "I don't want you to leave the campus ever. So whatever we need to do to keep you here, we'll keep you safe here. We're here to give you everything you need."
Everything except lessons in fiscal prudence.
MORE: Prof fired for cussing sues LSU for saying she sexually harassed students
IMAGE: The Advocate screenshot
Like The College Fix on Facebook / Follow us on Twitter