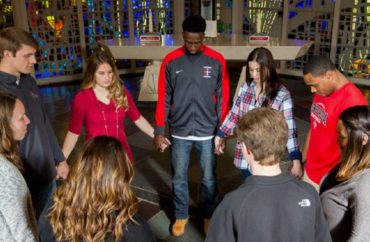 UPDATED
'I spent a lot of money on going to CUAA because it was marketed as a conservative, Christian space where Lutheran students would be safe to express their faith,' former student says
A Lutheran university in Michigan portrays itself as conservative and devoted to its theological beliefs, but in reality it pushes a woke agenda, according to interviews conducted by The College Fix.
The Fix spoke to several whistleblowers with ties to the university who said that Concordia University in Ann Arbor has strayed from its mission and is pushing leftism.
One clear example is the way the university reacted to the killing of George Floyd in May 2020 and subsequent Black Lives Matter activism. The problems have remained throughout the past three years.
According to several individuals recently interviewed by The Fix, university administrators were pushing the BLM message. Some athletes were even required or pressured into attending a pro-BLM rally on campus.
Similarly, one high-ranking official took a jack-o-lantern painted with the pro-police thin blue line from the campus safety office.
Dean of Students John Rathje, who is also a Lutheran pastor, twice removed a pumpkin that had been given to the campus safety office in October 2020. Around campus in October it is common to find pumpkins painted with various slogans and to show school spirit.
The Fix reviewed evidence that confirmed Rathje took the pumpkin.
He did not respond to two requests for comment on the allegations sent in the past three weeks. The Fix also asked if he knew if any Concordia athletes were ever forced to attend or otherwise coerced to attend Black Lives Matter or other racial justice type events on campus, particularly during the 2020-21 school year.
The Fix also emailed listed media relations officials Lisa Liljegren and Kali Thiel at the Wisconsin campus and media director Rachel Thoms at the Ann Arbor campus for comment on the allegations about Rathje, the university's views on racial and political topics and if any students were ever coerced to attend Black Lives Matter or similar events. None responded to the media inquiries.
After publication of the article, Thoms noted in the comments below that she has not worked at the school in a year and an automatic reply should have been sent. Concordia still lists her name as a media contact as of March 16 and no automatic email was received.
University makes special exception from 'chapel time' for racial protest event
The administration also was firmly behind black student activism. For example, the university made an exception to "daily chapel time" to allow the campus Black Student Union to hold a rally on campus. Generally, athletic practices, classes and other activities are not allowed during chapel time, according to a former student who spoke to The Fix on the condition of anonymity.
The October 2020 service "began in the chapel but then moved outside for the 'Black Out' rally to 'stand against injustice and inequality,'" one former student told The Fix. "This involved a few prayers about 'injustice', five minutes of silence for those who have 'fallen victim to police brutality', and BSU students sharing about their oppression," the former student said.
At least one coach provided athletes with a document called "Anti-Racism resources for White People."
The document, reviewed by The Fix, includes content from notable racial grievance advocates such as Robin DiAngelo, Ibram Kendi and Nikole Hannah-Jones. Topics such as white privilege, racism and Black Lives Matter were included on the document.
The former student told The Fix that the campus sells itself to Lutherans as conservative, but it is not. Some churches, she said, even provide scholarships for students to attend Concordia.
The recent graduate told The College Fix on the condition of anonymity that she "wish[es] I had just gone to a public school."
"I would've gotten a similar experience for much less money, AND I would have known what I was getting myself into," she said. "I spent a lot of money on going to CUAA because it was marketed as a conservative, Christian space where Lutheran students would be safe to express their faith. Instead, this campus that claims to 'live uncommon' practices many of the same things that every other college is doing."
The former student pointed The Fix to statements attributed to Rathje that would imply the university takes its faith seriously. "I promise you: at Concordia you'll discover how Jesus can be first in your life, like he's first on this campus. And it will change everything," the website quotes the Lutheran minister as saying.
The athletics department promises students that they can "compete at the highest level" while "growing your faith as a student athlete."
She did add that many of the professors were very helpful and impacted her life positively but the officials at the top of the university moved the school in the wrong direction.
Current professor says campus merger caused problems
Administrative tension and leadership problems were a common theme in the interviews conducted by The Fix. One current professor said that issues began when Concordia University in Mequon, Wisconsin merged with Ann Arbor, leading to centralization there, instead of decisions being made by employees at the Michigan campus.
He said that "due process is nonexistent" when it comes to adjudicating issues and said the Bible and biblical principles are only followed when convenient for the administration.
However, the professor expressed optimism about the new university president, Erik Ankenberg. He cited comments the president has made about staying true to conservative Lutheran beliefs when it came to LGBT issues as a positive sign.
President Ankenberg is also reportedly in talks with Concordia University Professor Gregory Schulz, who teaches at the Wisconsin campus, to return to teaching.
Concordia officials suspended Schulz in 2022 after he criticized wokeness on campus.
Editor's note: The article has been updated to fix the spelling of Rachel Thoms and note she has not worked at the school in a year.
MORE: Conservative students say they've been 'violently threatened' at Lutheran college
IMAGE: CUAA.edu
Like The College Fix on Facebook / Follow us on Twitter