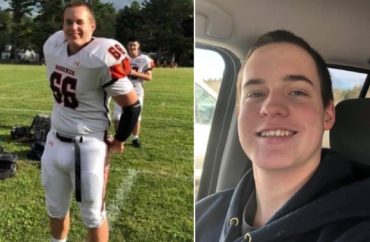 Politicians and public health officials let down a teen and his family
A Maine teen has committed suicide after feeling isolated from his friends and family due to coronavirus restrictions.
Spencer Smith had spent his summer lifting weights and working out in anticipation of the upcoming fall football season, only to find out in September that there would be no contact football season, only a 7-on-7 season. This format primarily uses a quarterback and receiver, leaving a lineman like Smith with few opportunities.
Jay Smith, Spencer's dad, told WMTV:
As soon as he found out it wasn't going to be a regular football season, looking back, we noticed he stopped working out. He stopped riding his bike as much to the point he didn't even work out anymore. Instead of working out, he took naps.
"Distance learning was a challenge for Spencer, and the one day each week he could go into school, he still felt isolated from his friends, so he asked to stay home," the Maine news station said. It noted that Smith's grades were falling after staying at home.
In August, The College Fix covered the warnings of a sports psychologist who shared the mental health risks of canceling high school sports.
Sports "can be a safe place for some, where they feel cared for," Hillary Cauthen, a sports psychologist, told The Fix in August. Consequences of removing athletic opportunities could lead to "an increase in stress, anxiety, depression, sense of loss-similar to grief."
"There are so many people needing our help right now and seeking care [and] all of our hospital beds are full," Jennifer Ziccardi, a nurse and executive at a behavioral health department at a hospital told WCNC, a Charlotte news station. Ziccardi was commenting on children in need of mental health care.
Students need the opportunity to return to normal.
"We need to get our kids back to classes, let them do their activities" including sports, band and plays, Spencer's dad said in a video interview with reporter Jackie Mundry. "Let them do this stuff, if they want to, it's up to them."
Spencer's dad, Jay, says our kids and teens need to be together during this time. He says he wants school boards across the state to allow that, as long as the student feels comfortable #NEWSCENTERmaine pic.twitter.com/mvMYbDykSz

— Jackie Mundry (@j_mundry) December 8, 2020
Parents and athletes have fought to return to the field, even as politicians and some public health experts, who are often wrong, have worked to limit access to these sports.
Democratic Governor Janet Mills' administration intervened to stop a handful of high school sports, even though the Maine Principals' Association had created a plan to safely return to play this fall according to Maine Wire. The principal advocacy group's sports medicine committee had recommended that football, and all sports, return to play, the publication said.
It still is up in the air how many Spencer Smiths there has to be for politicians and public health officials to realize that teens need to be with friends and need sports and other activities to help them feel like they have a purpose.
MORE: Stanford epidemiologist warns about increase in youth suicides
IMAGE: Jackie Mundry/Twitter
Like The College Fix on Facebook / Follow us on Twitter