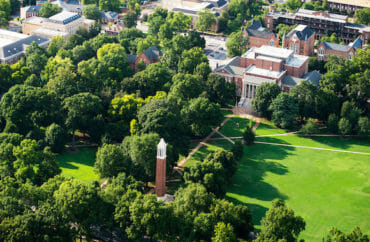 A top donor to the University of Alabama is encouraging a student boycott against the university after the state passed a law restricting most abortions in the state.
The law, which takes effect Nov. 15 and already faces legal challenges, makes it a felony for a doctor to perform an abortion unless the mother's health is at risk, the Atlanta Journal-Constitution reports.
Meanwhile, Hugh Culverhouse Jr., who has donated more than $30 million to the University of Alabama, is calling on students to boycott the school because they would be "trapped" under the state's abortion law, the Associated Press reports.
Culverhouse, a wealthy Florida businessman, considers the Alabama law to be "morally and constitutionally wrong," AP reports.
"I don't want anybody to go to that law school, especially women, until the state gets its act together," he said.
The law school was named after Culverhouse last year after he made a donation of $21.5 million, but that donation could be returned due to a dispute regarding the use of the funds that has nothing to do with the abortion law.
In a statement to MarketWatch, the university noted as much, saying: "None of the issues between the Law School and Mr. Culverhouse had anything to do with the passage of legislation in which the University had no role."
For Culverhouse's part, he's promised to help the ACLU fund the legal battle with the state over the abortion ban, and noted to the AP that his father, after whom the Alabama business school is named, was a member of the board of Planned Parenthood in the 1950s.
But stopping the law from taking effect isn't Culverhouse's only goal. He said he wants to see the state "punished" for passing the legislation until "you wake up and do the right thing."
"When you say sweet home Alabama, you can kiss my ass. There isn't anything sweet about it until this absolute abomination is done with."
MORE: Planned Parenthood supporters mock Students for Life display by chanting about how great abortion is
IMAGE: Quadaerial / Shutterstock
Like The College Fix on Facebook / Follow us on Twitter